Tricalcium phosphate is one of many different calcium salts found in dietary supplements. You can take tricalcium phosphate to supplement your daily calcium needs if you are concerned that you're not getting enough calcium from food sources alone. Calcium is an important mineral that your cells need in order to stay healthy.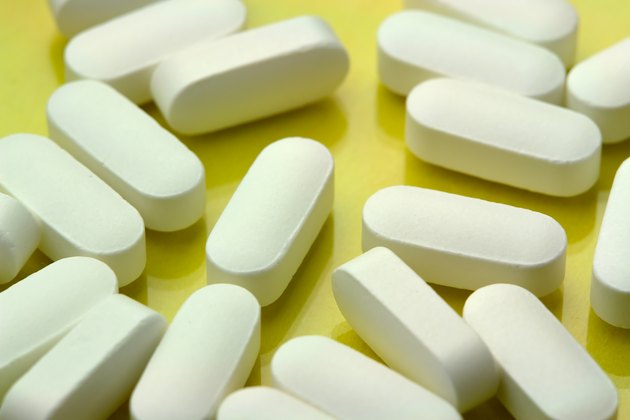 Calcium Needs
Your body needs calcium to maintain normal healthy function. You're probably most familiar with calcium in terms of its role in the skeletal system -- it helps maintain your bone health and density. Calcium is also crucial to several other body functions. Your heart needs calcium to maintain its rhythm and contractions of the skeletal muscles require calcium.
Calcium Sources
You can get the calcium your body needs from your diet. Dairy products and leafy green vegetables are good sources of the mineral. Many people opt to augment their calcium intake with supplements. Tricalcium phosphate is a popular supplemental form of calcium. It consists of positively charged particles of calcium combined with negatively charged particles called phosphates, which have the chemical formula PO4.
Benefits
Tricalcium phosphate offers no particular benefit over other common forms of calcium supplements, including calcium carbonate and calcium citrate. Tricalcium phosphate may be slightly less expensive than calcium citrate, although it may be a bit more than calcium carbonate. Your body absorbs tricalcium phosphate effectively, just as most people absorb both calcium carbonate and calcium citrate without trouble. In general, you can pick the best calcium supplement for the money and rest assured that you're getting the calcium you need.
Phosphorus
The human body needs phosphorus as well as calcium, and tricalcium phosphate supplies both. According to the Linus Pauling Institute, it's rare for Americans eating a varied diet to be phosphorus deficient because the mineral is common in many foods. The phosphorus in tricalcium phosphate will not harm you but it is not required or particularly beneficial for most people.
Is This an Emergency?
If you are experiencing serious medical symptoms, seek emergency treatment immediately.