Lunges and squats are great exercises for strengthening the muscles in your thighs, hips and buttocks. Since lunges and squats are low impact activities, these exercises can be good choices for those who cannot handle more vigorous forms of exercise. However, poor execution can result in knee pain while performing lunges and squats.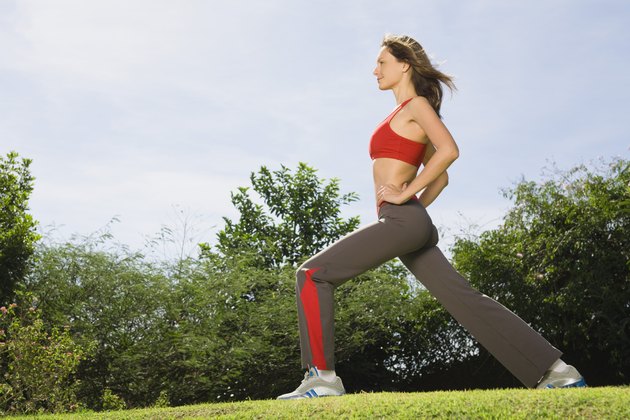 Causes
Proper execution is critical to performing squats and lunges without knee pain. Because these exercises place a substantial load on your knees, good joint alignment is the first step to proper technique. Throughout the exercises, align your knees over your ankles, and keep your weight on your heels in squats, or on the front heel in lunges. Do not allow the front of your knee extend forward past your toes. Your knees should not be flexed to angles less than 90 degrees at the low point of either exercise. Maintain a lifted chest and a slightly arched low back throughout the entire movement. Rounding your spine can hurt both your knees and your back. Practice and perfect your form without weights before progressing to weighted exercises.
Treatments
If you experience knee pain while performing lunges and squats and you do not have an underlying medical condition, making simple adjustments to your positioning may help. If the pain in your knee persists even after you have stopped exercising, apply ice and refrain from exercise until the pain is completely gone. Wrapping the affected knee joint with an ace bandage can help provide compression and added support.
Prevention
Always wear supportive athletic shoes while performing any type of exercise. Holding on to a table or other stable surface can help you to keep your balance and distribute your body weight more evenly. Prepare your knees for exercise by performing a general warm up like walking or exercising on the elliptical trainer or bike. Warming up in advance will help reduce your risk of getting injured by loosening up stiff leg muscles and joints.
Warning
The presence of mild knee pain during lunges and squats may not be a cause for concern. However, if your knee makes a clicking sound, becomes red or swollen, or if it cannot bear any weight, abstain from leg exercises and seek medical advice. Your doctor can perform an X-ray, MRI or joint fluid culture to determine the extent and cause of your knee pain.