Losing weight often requires daily exercise, counting calories and monitoring your diet. To motivate yourself to lose weight, you might consider joining a weight-loss team. A weight-loss team not only provides constant motivation, but also requires you to be accountable for your actions. Although names for a weight-loss team can be funny or serious, they should always inspire motivation and teamwork.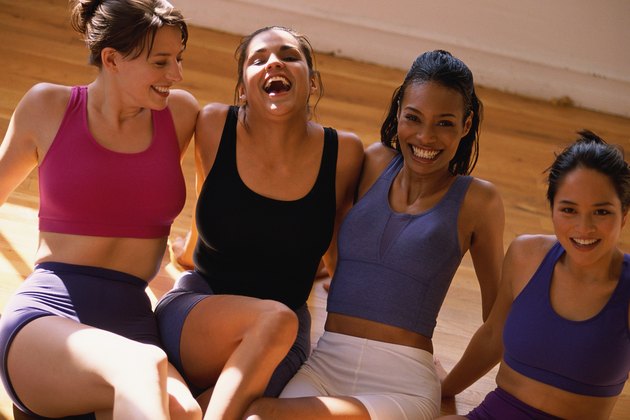 Purpose
Because losing weight is usually a long and difficult task, your team will likely be spending several weeks or months together. During this time, team members should support, encourage and motivate one another at all times. Equally as important, team members should feel united with one another as they work toward a common goal. Developing a team name is a way to encourage unity among your team members. It allows your team to represent itself as a cohesive group working together to achieve weight loss.
Team Names
If the team members appreciate humor, a funny name might be perfect for your weight-loss team. If desired, your funny team name can relate directly to your weight-loss efforts. For example, Lovable Losers, Fitness Fanatics or Bulging Bandits can be used. The Fearsome Four or Weight Loss Warriors can also be used as a funny weight loss team name. If you don't mind adding a few extra words, you might also use Thin It To Win It, Jogging Away Jiggles or Battle of the Bulge.
Personalization
Your weight-loss team name can also be personalized to your team's members. One of the easiest ways to personalize a team name is to incorporate your names or initials. For example, a team composed of John, Ryan, Ashley and Maria can simply be named "Team JRAM." On the other hand, if you all have the same last name it can be something like "Jiggling Jansens." Your team name can also be personalized to the city you live in or the occupation of your teammates. For example, you might use Sweatin' Secretaries or Energetic Engineers.
Tips
When developing a name for your weight loss team, it is important that every member of the team participates in the process. Invite all team members to develop a few names, whether openly or anonymously. Once a list of potential names has been developed, ask teammates to vote on their favorites. Ideally, keep your team name limited to only a few simple words that are easy to understand and pronounce. Because many teams motivate by chanting their team name out loud, your team's name should not be too long or complicated.