Exercise bikes are such an effective way to get a cardio workout and build leg mass that astronauts use them to counteract the effects of microgravity. Here in everyday life, exercise bikes provide calorie-burning workouts to aid weight loss. There are a variety of brands and models all boasting different features, but the basics are the same, so choosing the best bike for weight loss is a combination of basic principles and personal preferences.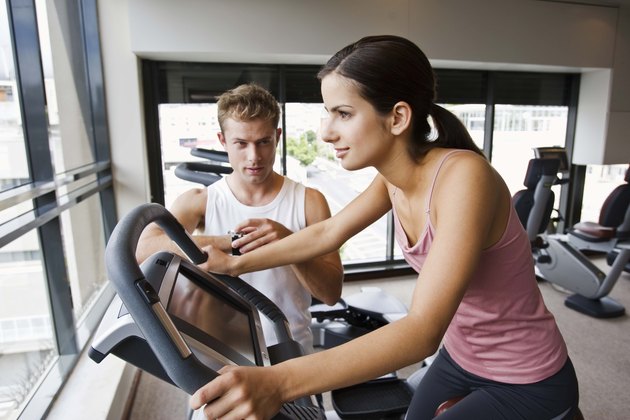 Finding Your Type
There are two types of exercise bikes. The upright has a seat positioned straight so the rider works in an upright position, while a recumbent bike has a reclined seat with a seat back. Upright bikes more closely mimic bicycling outdoor while recumbent bikes provide more comfort and back support. Both are effective for increasing heart rate to burn the calories necessary for weight loss, so choose the bike that's most comfortable for you since this will impact the duration of your rides.
Testing Resistance
Exercise bikes offer multiple levels of resistance. Since individuals have different levels of fitness, the key is to test the bike for your personal requirements. Make sure the lowest setting provides sufficient tension with room to improve as you get stronger. Increased settings should increase your heart rate and higher settings should be able to challenge you to 85 percent of your maximum heart rate.
The Extras
Exercise bikes have displays that offer basics such as a heart rate monitor, calories counter and different workout plans. Test a bike to make sure you can comfortably reach the display and handles. Some exercise bikes offer more workout programs or advanced ways to monitor your heart rate and calorie expenditure. Bikes with specific display settings such as age, sex, weight and activity level and a chest strap heart rate monitor tend to more accurately record calorie expenditure, and can thus help you better track your energy balance for weight loss.
Fitting Your Space
Overall dimensions matter as well when it comes to choosing the right bike for you. Measure your planned exercise area carefully and carry those numbers with you as you shop. Recumbent bikes generally take up more area than an upright but an upright bike may not offer the features you prefer. Choosing the best bike for you means matching all your criteria at a price you can afford.