The multiple types of lentils, which include black, green and red lentils, can be used to make dozens of different lentil soups. One popular recipe variation for lentil soup from LIVESTRONG.COM's MyPlate calls for chicken or vegetable broth and olive oil combined with lentils, celery, onion and carrots. This soup is a healthy meal option and contains a variety of nutrients.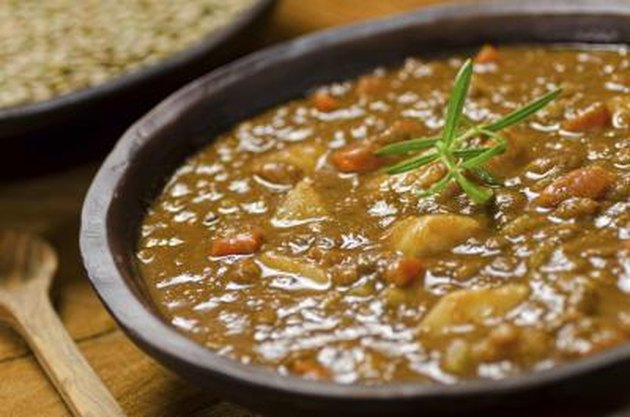 Low in Calories
One serving of lentil soup contains 163 calories. If you follow a 2,000-calorie-per-day diet, this accounts for 8.1 percent of your daily calorie allowance. While your nutritional requirements may vary based on fitness goals, sex and lifestyle, a typical meal should have 300 to 600 calories -- making lentil soup a good choice to help you stay within recommended calorie ranges.
Good Source of Macronutrients
Lentils are a healthy source of carbohydrates, a macronutrient that your body converts to glucose, which provides energy. Each serving of lentil soup provides 26.7 g of carbohydrates. Meal plans should include 225 g of carbohydrates per day for women or 325 g for men. This soup is a good choice for protein; one serving contributes 8 g of protein toward the suggested daily intake of 46 g for women or 56 g for men.
High in Fiber
Eat lentil soup to get a boost in your fiber intake; each serving of this soup has 11.1 g of fiber -- a respectable portion of the 25 to 38 g of fiber that you should consume each day. Fiber benefits your digestive system and bowels, preventing diarrhea, constipation and diverticulitis. Research published in the May 2009 issue of "Journal of the American Dietetic Association" indicates that, if Americans ate a 1/2-cup serving of lentils or other dried beans each day, their overall diets would improve, due in part to increased fiber intake.
Excellent Source of Iron
One serving of lentil soup either meets or almost meets your entire daily need for iron. Women require more iron each day than men -- 18 mg versus 8 mg, respectively. A serving of this soup contains 16.2 mg of iron, which promotes the production of red blood cells and is critical to helping you keep anemia at bay. This soup also provides potassium, vitamin A, vitamin C, calcium, vitamin E, thiamin, riboflavin, niacin, vitamin B6, phosphorus, magnesium, zinc, manganese and pantothenic acid.
Considerations
While the fat content of lentil soup is not excessive, you will take in 6.9 g of fat per serving. You can cut the fat by choosing low-fat broth varieties. Your meal plan should include 44 to 78 g of fat per day -- about 20 to 35 percent of your daily calories when you adhere to a 2,000-calorie-per-day diet.