Diabetes that begins during pregnancy is called gestational diabetes. This condition affects 5 to 9 percent of all pregnancies in the United States, and it is becoming more common, according to a July 2009 article in "American Family Physician." Pregnancy also aggravates preexisting type 1 and type 2 diabetes. Blood sugar levels that are consistently too high during pregnancy can cause problems for both mother and infant.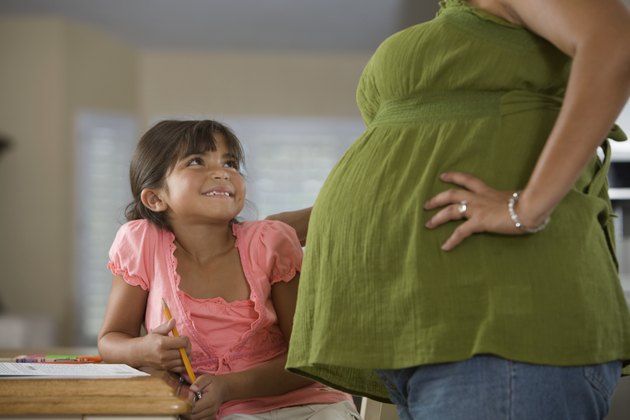 Risks
Diabetes during pregnancy increases the likelihood of congenital malformations, or birth defects, in infants, particularly if your blood glucose is poorly controlled for the first 10 weeks of pregnancy. High blood sugars also contribute to excessive fetal growth, which makes labor and delivery difficult and increases the likelihood of infant fractures or nerve injuries. Large infants are more likely to be delivered via cesarean section. Newborns of diabetic mothers are at risk for respiratory distress, jaundice and dangerously low blood calcium or glucose levels.
Diagnosis
Gestational diabetes is diagnosed when your blood sugars exceed specified levels following two glucose tolerance tests. The first test, usually performed between the 24th and 28th week of your pregnancy, involves drinking 50 g of a sugar solution and checking your blood glucose one hour later. If your level is above 130 mg/dL, your doctor will probably order a second glucose tolerance test that measures your blood glucose when you are fasting and then each hour for 2 to 3 hours after the test. A fasting glucose higher than 95 mg/dL, a one-hour level above 180 mg/dL, a two-hour level over 155 mg/dL or a three-hour measurement over 140 mg/dL is diagnostic of gestational diabetes.
Healthy Levels
For pregnant women without diabetes, average fasting glucose levels vary between 69 mg/dL and 75 mg/dL; one hour after eating they range from 105 mg/dL to 108 mg/dL. If you have preexisting diabetes or develop gestational diabetes, the goal of management is to keep your blood glucose as near normal as possible without going too low. According to the 2014 American Diabetes Association practice guidelines, established blood glucose goals for diabetic women during pregnancy include: fasting sugar less than 95 mg/dL, blood sugar less than 140 mg/dL, 1 hour after eating; and less than 120 mg/dL, 2 hours after eating.
Considerations
Pregnancy is a challenging time, both emotionally and physiologically. Maintaining optimal blood sugar levels during pregnancy helps prevent serious problems for both a mother and her infant. Early and ongoing prenatal care is important for assessing your risk for diabetes and for ensuring your blood sugar levels remain normal. If you know you are pregnant but are not yet involved in prenatal care, see your physician or midwife.