Protein drinks, such as Boost, can be a beneficial supplement for certain people, such as athletes, older people, overweight individuals, people with medical and gastrointestinal disorders, vegetarians and vegans. They are a convenient source of complete protein and other nutrients.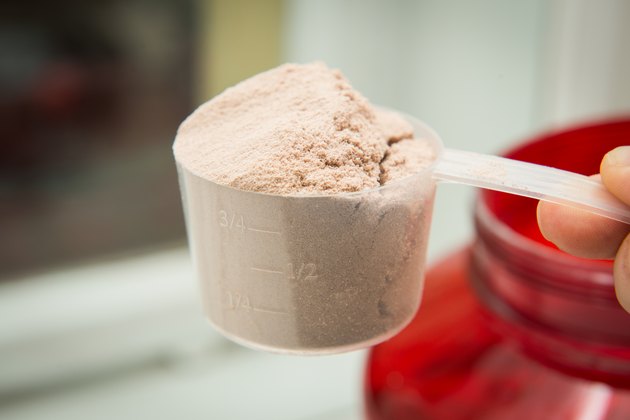 However, not everyone needs extra protein, and natural sources of protein, like meat, fish, dairy, nuts, legumes, tofu and eggs, are a better alternative. If you feel you need to supplement your diet with a protein drink, consider some of the health consequences before using it and consult your doctor first.
What Is Boost Nutritional Drink?
Boost nutritional drinks are made by Nestle and are available in different Boost formulations, including Boost High Protein with 20 grams of protein, Boost Glucose Control for people with diabetes, Boost Plus for extra calories and Boost Original for complete nutrition. Boost's high protein content comes from soy lecithin and soy isolate, derived from soybeans.
Nutrition in Boost
Boost.com recommends Boost Original as a mini-meal or between-meal snack. Each 8-fluid-ounce bottle of Boost Original provides 26 vitamins and minerals, some of which include 100 percent daily value (DV) for vitamins C and E, 60 percent DV for vitamin D and 40 percent DV for vitamin K.
Allergic Reactions
For anyone with a sensitivity or allergy to soy, Boost nutrition drinks may cause a reaction with such symptoms as a rash, itching and tiredness, says WebMD. Boost drinks are suitable for people with lactose intolerance or wheat allergies.
Boost.com warns, however, that its supplements are not suitable for people with galactosemia_,_ a disorder that affects how the body processes simple sugar. Supplements containing soy derivatives are usually safe if used for up to six months. If you experience any mild stomach and intestinal side effects, including nausea, constipation and bloating, from taking Boost, you should discontinue using it.
Effect on Kidney Function
In a normal, healthy individual, protein drinks are likely safe. But if you have preexisting problems, such as reduced kidney function, you may be at risk of kidney damage if you use Boost excessively over long periods. Your body may not be able to properly eliminate the accumulation of the waste products from protein metabolism, according to the Mayo Clinic.
Weight Loss
Supplements, such as Boost nutrition drinks, are popular as a dieting aid or meal replacement for overweight individuals to help increase fat breakdown and decrease calorie intake. A high-protein diet, in fact, may be effective in helping with weight control because of the satiety and reduction of fat mass that results, according to a study published in the journal Nutrition & Metabolism. It was noted that high-protein diets can help preserve lean body mass during weight loss and that the source of the protein should be taken into consideration. Plant-based protein, such as that found in Boost, was shown to be the most effective.
Interaction With Drugs and Medication
Many older people take a regimen of prescription and over-the-counter drugs, often with vitamin and mineral supplements. Protein drinks, like Boost, that are often taken as a meal replacement for weight gain, contain high levels of vitamins and minerals that can add to this mix within the body and cause problems. You also shouldn't drink Boost if you take blood thinners such as Coumadin and warfarin. The high amount of vitamin K in a Boost drink can directly affect the efficiency of these medications, warns AgingCare.
Is This an Emergency?
If you are experiencing serious medical symptoms, seek emergency treatment immediately.