Vitamins are essential for proper growth and development throughout the life cycle. Folic acid, a water-soluble B vitamin, is especially important during adolescence. Folic acid helps the body maintain old cells and create new ones. This is especially important during periods of rapid cell division and growth. Folate, or vitamin B-9, occurs naturally in food, while folic acid is the synthetic form found in supplements and added to fortified foods. To support cell division and tissue synthesis during adolescence, it is important that teens plenty of folic acid every day.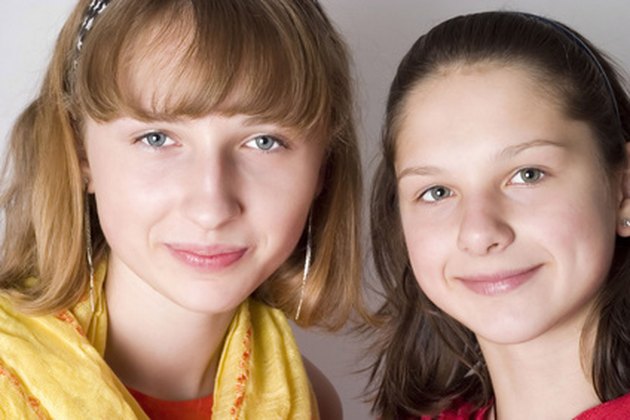 Function
Folic acid is a water-soluble vitamin, meaning that it dissolves in water. Any extra folic acid is not stored in the body but rather excreted in the urine. Therefore, teens need a continuous supply of folate in their diets. Folate is needed by the body to produce DNA and RNA, the basic building blocks of cells. Folic acid makes red blood cells, promotes tissue growth, prevents anemia, metabolizes homocysteine and helps maintain normal levels of amino acids. In conjunction with vitamin B-12 and vitamin C, folic acid helps the body break down, use and create new proteins.
Recommended Dietary Allowance
The Food and Nutrition Board at the Institute of Medicine have established recommended dietary allowances for folate. This indicates the average daily intake sufficient to meet nearly all healthy teen's folic acid needs. The recommendations for folate are expressed in dietary folate equivalents, developed to help account for the differences in absorption of naturally occurring folate and the more bioavailable folic acid. Male and female adolescents ages 14 to 18 require 400 mcg of folate per day.
Importance of Folic Acid for Teens
The teenage years are a time of rapid growth, development and maturation. Maintaining adequate folate levels as a teen is particularly important for many reasons. Folic acid may help adults reduce the risk of chronic conditions such as cardiovascular disease, anemia and cancer. Early stages of heart disease and anemia can begin early in life, even during adolescence. Therefore, it is important for teens to develop healthy eating habits that they will carry with them the rest of their lives. Although daily folic acid needs are the same for boys and girls, it is vital for girls to maintain healthy folate levels. As their bodies prepare for future motherhood, adolescent girls' bodies begin to change. Teen girls have special folate needs and should maintain adequate folate levels from folate-rich foods and a folic acid supplement.
Folate-Rich Foods
Leafy green vegetables such as spinach, broccoli, kale and asparagus; strawberries, citrus fruits and juices; lentils, dried peas and beans and liver are natural sources of folate. The Food and Drug Administration published regulations requiring the fortification of folic acid in certain foods. Foods with added folic acid include breads, cereals, flours, corn meal, pastas, rice and other grain products.
Getting Enough Folic Acid
Teens can boost their folic acid intake by consuming more folate rich foods or by taking a supplement. Folic acid is available as a single ingredient supplement, as part of a B-complex vitamin or in a multivitamin formula. Or, incorporate more folate-rich foods into your teen's diet each day. Try frozen orange juice pops, strawberry and citrus fruit kabobs, veggies and dip, healthy fruit smoothies, beans in a wrap or on a sandwich, and use high fiber cereal with nuts and dried fruit for a trail mix.