Diabetes is a condition whereby your are unable to properly manage your blood sugar levels without intervention. Type 2 diabetes is a condition when your pancreas produces insufficient amounts of insulin or when your body is unable to properly utilize the insulin in your system. About 90 to 95 percent of people diagnosed with diabetes have type 2 diabetes, FamilyDoctor.org notes. Insulin injections and oral diabetic medications can be used to manage and alleviate the symptoms of type 2 diabetes.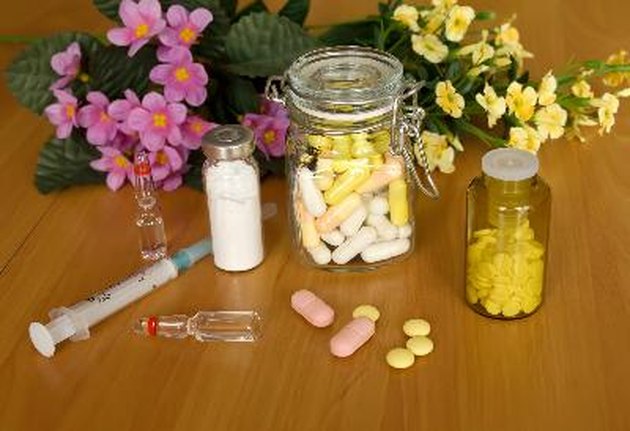 Uses and Types
Insulin injections deliver the hormone insulin into your body. Insulin helps your body metabolize your blood sugar. Insulin may be classified according the length of time it takes to affect your body, the American Diabetes Association explains. Rapid-acting insulin starts affecting your body five minutes after injection and lasts about four hours. Long-acting insulin takes as much as 10 hours to begin affecting you and can remain in your system for about a day. There are six main types of oral diabetes medications, the University of Maryland Medical Center notes. Most of these medications are designed to help increase your natural sensitivity to insulin. Others are designed to reduce your liver's blood sugar production, or inhibit your body's ability to absorb starch.
Side Effects
Insulin can induce hypoglycemia, or low blood sugar. You may experience headaches, hunger, irritability and elevated heart rate after taking insulin. You can also experience a skin rash over your body, feel faint and have breathing difficulties after taking insulin. Oral medications such as metformin, GLP-1 inhibitors, medlitinides and alpha-glucosidase inhibitors cause nausea, vomiting and diarrhea, the University of Maryland Medical Center. Thiazolidinediones can cause weight gain, fluid retention, as well as elevate your risk of heart failure and liver damage.
Interactions
Insulin and oral diabetes medications interact with one another, the American Diabetes Association explains. Metformin and thiazolidinediones, such as glitazones, can cause hypoglycemia when used together with insulin. Alpha-glucosidase inhibitors, such as acarbose, can cause hypoglycemia when used in tandem with other diabetes medications. Albuterol and beta-blockers can interact with insulin making it more difficult to determine whether or not your blood sugar levels are low.
Benefits
Insulin and oral diabetes medications help keep your blood sugar levels remain within normal parameters. Oral diabetes medications, such as metformin, do not cause hypoglycemia or weight gain. Alpha-glucosidase inhibitors and insulin can lower your risk of developing heart problems and hypertension. DPP-4 inhibitors do not cause weight gain and lower the risk of hypoglycemia.