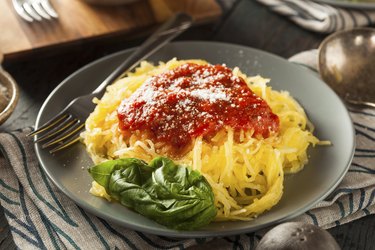 Spaghetti squash is easy to prepare and can be used as a pasta substitute for low-carbohydrate and gluten-free diets. This big, yellow, oval squash has flesh that comes out in long strings like spaghetti noodles when fully cooked. Like pasta, you can pair spaghetti squash with any number of sauces, vegetables and toppings. Squash is loaded with vitamins, is very low in sodium and has no fat, so make it a big part of your nutrition plan.
Choosing
Spaghetti squash is easy to find in the produce section of most grocery stores and at farmers markets. Choose a squash that sounds hollow and has a firm outside with no bruises. The raw squash is very hard, so some stores sell them cut, or you can ask the manager in the produce section to cut it in half or quarters for you. At home, use a large sharp knife to pierce the skin and gently saw through the squash.
Cooking
Once the squash is cut, scrape out the seeds in the middle with a spoon, and place the cut side down in a pan that has an inch of water in the bottom. Or place the cut squash in a steamer basket on top of the water in the bottom pan of the steamer. Cook for 45 minutes to one hour. Scrape cooled, cooked spaghetti squash strands out of the shell with a fork, and put the strands in a bowl. Toss with your favorite sauce and Parmesan cheese.
Spaghetti Squash and Vegetables
Primavera vegetables are a delicious topping to strands of spaghetti squash. Any of your favorite cut, fresh or frozen vegetables work well when steamed or sauteed in a bit of olive oil. Prepare the vegetables when the squash is almost done cooking. Toss together with a cream or olive oil based sauce. Another wonderful dish is spaghetti squash pomodoro. Cut tomatoes into small cubes, saute themin olive oil for just barely a minute, and toss all with the strands of squash, ground pepper and a bit of Italian parsley.
Leftovers and Lunches to Go
Cooked spaghetti squash freezes well. It can be reheated with a little water in a saucepan, or microwaved. Because of this, it makes a good take-along meal. Put the squash in a plastic container, add vegetables and a little olive oil or tomato sauce, sprinkle Parmesan cheese on top, and reheat in the microwave for 2 minutes on medium power. Or simply eat it cold or at room temperature.