Soda water refers to a beverage made up of water that has been charged with carbon dioxide. Sodium salts are added to the drink to give it extra flavoring. Soda water is added to drinks to dilute the alcohol content and to give the beverage a fizzy taste. Other names for soda water include seltzer, club soda and sparkling water.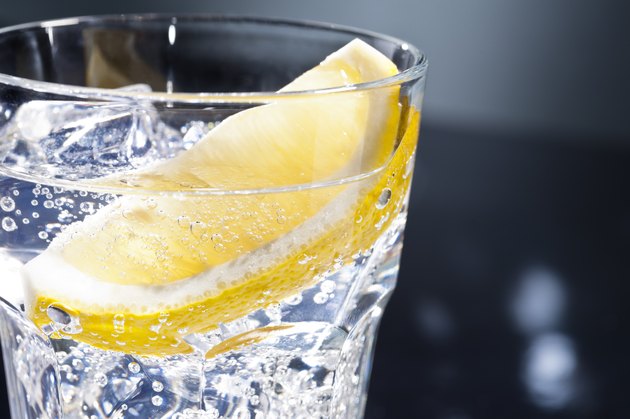 Fruit Juices
Fruit concentrates are ingredients used along with soda water in drinks. Fruit juices and soda water mixed together make a sweet and bubbly drink that is suitable for all ages. Fruit juices and concentrate mixes that can be combined with soda water include lemon juice, lime juice, lemonade, cranberry juice and orange juice.
Vodka
Vodka is a common ingredient found in drinks featuring soda water. A Seadoo is an alcoholic drink made up of vodka, soda water and cranberry juice. When you drink a South Side, you are drinking a mixture of soda water, lime juice, mint, triple sec and vodka. A Kelly-K blends soda water, vodka and Campari. Put together grenadine, vodka and soda water to make a Palo Alto. Flavored vodkas can be used to make drinks such as the Arctic Red featuring a mix of sugar, cranberry vodka, lime peel and lemon.
Gin
Gin and soda water blend to make several alcoholic beverages including high balls. A gin highball can be made with lime juice, gin and soda water. A Strawberry Fizz is a sweet drink featuring soda water, gin, sweet cream and strawberries. Make a Jitterbug with gin, soda water, lime juice, grenadine, vodka, sugar and sugar syrup.
Blue and Green Caracao
The sweetness of the liquors blue and green Curacao go well with soda water. Potential combinations include the Painter's Delight, which is made up of a combination of green Curacao, gin, Perrod, lemon and soda water. Another drink possibility is Deep Valley, a mix of blue Curacao, gin, lemon juice, soda water and pineapple juice.