Nitrate is a naturally occurring form of nitrogen found in many soils. According to "Staying Healthy With Nutrition" by Dr. Elson Haas, soils with heavy agricultural contaminants often measure high in nitrate levels. These high levels cause a variety of unhealthy side effects. Colorado State University says that high nitrates occur when organic residues from crops, fertilizers and decaying plant sources appear. Sources of nitrates include animal feedlots, sewage systems and manure. Infants are most commonly affected by nitrates in the water.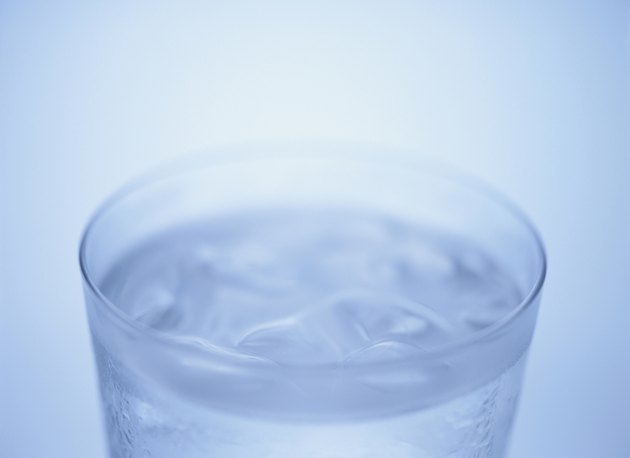 Infants
Children under the age of six months are more prone to developing methemoglobinemia, or blue baby syndrome, when consuming high-nitrate water, says Colorado State University. The condition is a form of nitrate poisoning. Nitrates convert to nitrites in the stomach by intestinal bacteria, especially among infants, because their stomach acid is not as strong as adults'. Nitrites alter hemoglobin, which is responsible for carrying oxygen in the blood. Hemoglobin changes to methemoglobin, and oxygen can no longer be transported, leading to oxygen deprivation. According to PubMed Health, infants who eat large amounts of vegetables high in nitrates or who are ill are more susceptible to the illness.
Adults
Adults may also contract nitrate poisoning. If your stomach produces low levels of stomach acid, or you are lacking the normal enzyme that changes methemoglobin back to hemoglobin, you are at higher risk. Still, most adults are able to consume rather large amounts of nitrates without adverse effects, according to Colorado State University. Most nitrates are consumed by eating raw or cooked vegetables and are then removed through urination.
Symptoms and Treatment
The most common symptom of nitrate poisoning is a blue coloration of the skin around the eyes and the mouth. Difficulty breathing and respiratory distress may occur. Additional symptoms include headache and fatigue. The medication methylene blue is administered to reverse the condition. According to PubMed Health, administering ascorbic acid may also reduce the buildup of methemoglobin. Alternative therapy and treatment include hyperbaric oxygen chambers or blood transfusions.
Prevention
Haas states rural households with pregnant women or infants under six months of age should frequently check nitrate levels in their home's drinking water. Nitrate cannot be tasted or smelled. If high amounts are detected, reverse osmosis water systems or distillation systems may remove the excess nitrates. Local health departments and private water specialization companies often test for nitrate contamination, for free or a small fee.