According to the Centers for Disease Control and Prevention, there are 50 million Americans who suffer from some form of arthritis or joint pain. While arthritis and joint pain can be caused by a variety of factors, including age and joint injuries, vitamin and mineral deficiencies can also play a role in joint pain. Levels of vitamin B-6, C and D, as well as calcium and potassium, are often tested to check for deficiencies, and treatment with supplements can often help joint pain.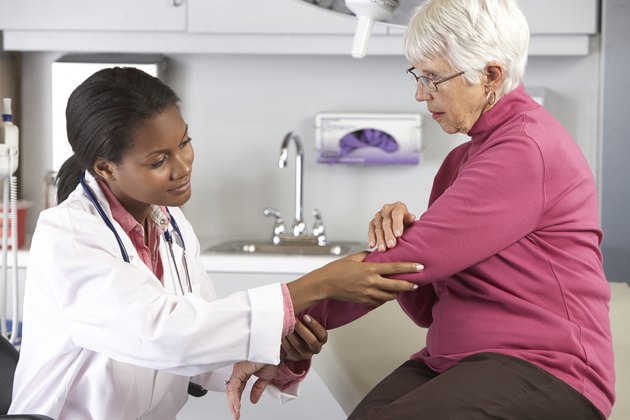 Potassium
Potassium is an essential mineral and electrolyte responsible for the function of all cells, tissues and organs in your body. It is essential to heart function and has a vital role in both skeletal and smooth muscle contractions. Potassium can be acquired through a healthy diet and is found in all meats, salmon, cod, flounder and a variety of fruits, vegetables and legumes. Potassium balance in the body requires proper amounts of sodium and magnesium. Traditional American diets tend to be high in sodium, which may increase the need for larger amounts of potassium. A deficiency in potassium is known as hypokalemia.
Joint Pain
Joint pain can affect one or many joints and can be a result of injury, arthritis, bursitis, autoimmune diseases like rheumatoid arthritis and vitamin and mineral deficiencies. Joint pain treatment will depend on what the underlying cause is. If your joint pain is the result of an injury, rest, warm baths and massage will help treat the pain. Anti-inflammatory medications such as aspirin and ibuprofen can also help with joint pain. If there is a vitamin deficiency, supplementing with that vitamin can often reduce or eliminate pain.
Medical Research
A 2008 study published in the "Journal of Pain" looked at the relationship between potassium and joint pain found in patients with rheumatoid arthritis and hypokalemia. What they discovered was the supplementation with potassium was able to reduce the joint pain levels in the patients participating. A 2007 study published in the "Journal of Oral Implantology" looked at the use of potassium in a topical form to treat the pain caused by temporomandibular joint, or TMJ, pain. They discovered that the potassium mixed with dimethylisosorbide was able to remove the pain and inflammation of the jaw joint and allow physicians to better diagnosis and treat the TMJ.
Considerations
If you are experiencing joint pain that you cannot explain with an injury or condition, consult your physician. He can provide a thorough examination of the joints and rule out an injury, check your blood levels and look for any possible causes. He will best be able to advise a treatment plan. Taking vitamin supplements such as potassium when you are not deficient can lead to vitamin toxicity and should always be discussed with your physician.