As many Type 2 diabetics are overweight or obese, prescription weight-loss drugs like phentermine provide an important treatment option to help diabetics control their condition by managing their weight. Phentermine works both as a stimulant and an appetite suppressant. At the time of publication, the U.S. Food and Drug Administration is mulling over a new drug application that combines phentermine with another drug that helps you feel full. The drug also reportedly has a significant effect on diabetics' A1C levels in addition to helping them lose weight.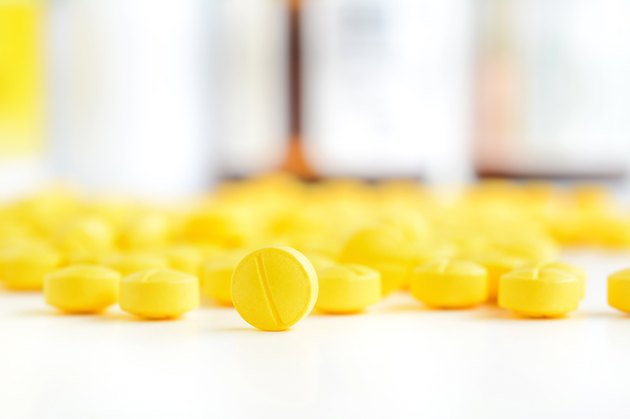 Diabetes
Diabetes is classified as an epidemic in the U.S. More than 25 million have the disease. Another 79 million people have prediabetes, a condition in which your blood sugar is elevated but not high enough to diagnose diabetes. The National Diabetes Information Clearinghouse reports that most people with prediabetes go on to develop diabetes within 10 years if they don't take steps to treat the condition. The Centers for Disease Control and Prevention projects that by 2050, as many as 1 in 3 Americans could have diabetes if current trends continue. About 80 percent of all people with Type 2 diabetes are overweight.
Phentermine
Phentermine works as an appetite suppressant, but according to Drugs.com, it also acts like an amphetamine by stimulating the nervous system and raising blood pressure. It is a prescription drug, written to help speed up weight loss in overweight people who are already following a reduced-calorie diet and getting more exercise. Phentermine is the most commonly prescribed weight loss drug in the U.S., according to the Weight-control Information Network. You may recall hearing about phentermine when it was part of a combination drug, with fenfluramine, and commonly referred to as "fen/phen." Fenfluramine, however, was subsequently taken off the market after reports of heart- and lung-related side effects.
A Phentermine Combination for Diabetics
A pharmaceutical company completed a clinical trial on a combination drug involving phentermine, which produced some results of interests to diabetics. Qnexa, as the product is called, is an investigational drug being developed by Vivus to treat obesity, diabetes and sleep apnea. In addition to a low-dose version of phentermine, Qnexa also contains topiramate, which acts to increase satiety. Participants in the trial lost an average of 37 lbs. over 56 weeks. In addition, the drug lowered A1C levels in diabetic patients. A1C is an index of your blood sugar levels over about three months. DiabetesHealth also reported that Qnexa "arrested the progression of diabetes" by preventing increases in A1C in people who were obese but had not yet been diagnosed with type 2 diabetes. Additional trials were underway in 2011, but in July 2010, the U.S. Food and Drug Administration's Endocrinologic and Metabolic Drugs Advisory Committee met to discuss the safety and effectiveness of Qnexa. Vivus has filed a new drug application.
How to Take Phentermine
Phentermine prescriptions mainly go to people who are obese with a body mass index of 30 or greater, or to people with a lower body mass index in the presence of other risk factors, such as diabetes. The medicine comes in immediate-release and extended-release versions. You can also request a version that allows you to crush it and mix with food; otherwise you shouldn't split, crush or chew the extended-release tablets. Your doctor may tell you to take a single dose daily or three times daily before your meals. Most people take phentermine for a short period, usually three to six weeks. This is because phentermine is a stimulant and can be habit-forming.
Precautions for Diabetics Taking Phentermine
The American Diabetes Association states that diabetics should use phentermine cautiously. Insulin requirements change -- you may need more of it as you also make dietary changes. It's critical you monitor your blood sugar levels closely and tell your doctor when you have high and low levels, the association says. Your doctor may change your dosage.