Methionine is a sulfur-based amino acid essential to optimal human health and function. The body cannot produce methionine and must get this vital substance through dietary means. Protein-rich foods, such as eggs, dairy products, fish, poultry and meat, contain high levels of methionine, which is also available in lesser amounts in nuts, grains, seeds and legumes. A deficiency of methionine can trigger symptoms ranging from elevated cholesterol readings to liver damage.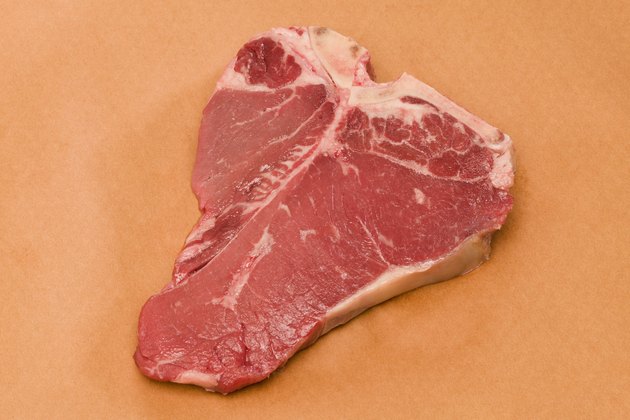 Can Lead to Fatty Liver
One of the functions of methionine is the protection of the liver from fatty degeneration. The amino acid does this in part through its synthesis of cysteine, which protects liver cells from destruction. To better understand the effects of methionine deficiency on the liver, a team of researchers at the University of Kentucky Medical Center conducted an animal study in which they fed lab rats diets that were either very low or totally lacking in methionine. The animals showed a significant increase in proinflammatory and fibrotic genes that were then sharply reduced by the administration of methionine. In an article in the March 2008 issue of "Digestive Diseases and Sciences," researchers said their findings confirmed the causative role that methionine deficiency plays in the development of steatohepatitis, also known as fatty liver.
Increases Lipid Peroxidation
In "Amino Acids and Proteins for the Athlete," author Mauro G. Di Pasquale reported that a deficiency of methionine can increase the susceptibility of lipids to peroxidation, a process in which free radicals steal electrons from lipids in cell membranes, causing cell damage. Di Pasquale cited a French study in which rats that were fed a soy protein diet showed a sharp increase in the peroxidation of lipids that was at least partially reversed when researchers supplemented the test animals' diets with methionine. Di Pasquale said the test findings suggest that an imbalance of amino acids, particularly a deficiency of methionine, can lead to an elevated risk of atherosclerosis through increased circulating cholesterol and increased lipid susceptibility to peroxidation.
Boosts Risk of Depression
S-Adenosylmethionine, also known as SAM or SAM-e, is a natural metabolite of methionine in the body. In both its endogenous form and in supplement form, SAM has shown significant antidepressant properties with few adverse side effects. A deficiency of methionine leads to reduced levels of SAM and an increased risk of depression. In an animal study conducted at McGill University, researchers Simon N. Young and Marjan Shalchi supplemented half of a group of laboratory rats with methionine and the other half with synthesized SAM, a relatively expensive and unstable supplement. In findings published in the January 2005 issue of the "Journal of Psychiatry & Neuroscience," Young and Shalchi reported that the methionine supplement raised SAM levels in various parts of the central nervous system at lower doses than were attained with the SAM supplement.
Too Much of a Good Thing
Although methionine deficiency can produce unpleasant symptoms, consuming excessive levels of the amino acid can produce adverse consequences as well. In a study published in the January 2010 issue of "Current Alzheimer Research," researchers at Philadelphia's Temple University reported that the body converts excessive levels of methionine to homocysteine, high blood levels of which appear to increase the risk of dementia.