Vitamins can benefit your health greatly, especially when included as part of a daily diet. Some people may experience symptoms, such as headaches, by consuming too much of any one vitamin. When taken in high dosages, vitamins become toxic. Vitamin supplements are also not regulated by the FDA in the same manner as regular processed foods. Vitamin supplements can be put on the market without testing the efficiency of the product. Therefore, take supplements with caution and consult your doctor and nutritionist before making diet and exercise regiment changes.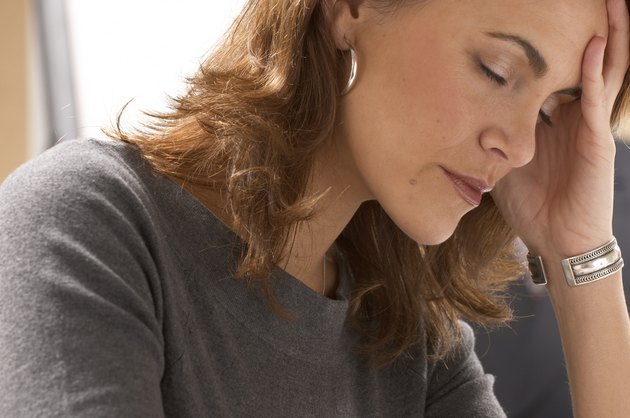 Headaches
Headaches vary in severity. Most headaches can be treated by altering lifestyle after identifying the trigger of the onset of a headache. Headaches may be triggered by consuming foods such as cheese or chocolate. Depression and anxiety can also cause headaches. Constant headaches can be a sign of a serious problem or a side effect of nutrition supplements or medications. Do not self-diagnose -- instead contact your health professional if headaches persist.
Vitamins
Eat a variety of foods to gain essential nutrients the body needs to function. The best way to obtain these vitamins and minerals is to incorporate them into the foods you eat. People who eat a well-balanced diet will not likely need additional vitamin supplements. Before adding a dietary supplement, first consult your doctor as vitamins can be helpful as part of a nutritional diet but may become toxic in large quantities.
Vitamin Supplements
When including vitamin supplements as part of your diet, be prepared for possible side effects, including headaches. Some vitamins may counteract medications and prohibit the effectiveness of some treatments like Chemotherapy. Vitamin D toxicity is caused by the buildup of calcium in the body. Depending on the severity, you may need to stop taking vitamin supplements. Some people may require hospitalization.
Vitamin Overdose
Overdosing on vitamins including B vitamins, vitamin D, vitamin A, and vitamin E may cause headaches. Overdosing on vitamins may have other serious symptoms in addition to headaches. For pregnant women, high dosages of vitamin C can cause scurvy in newborn children. High dosages of vitamin D may cause physical and mental retardation in newborns. It is important that you take the daily recommended dosage and take as directed by your primary care physician and nutritionist.