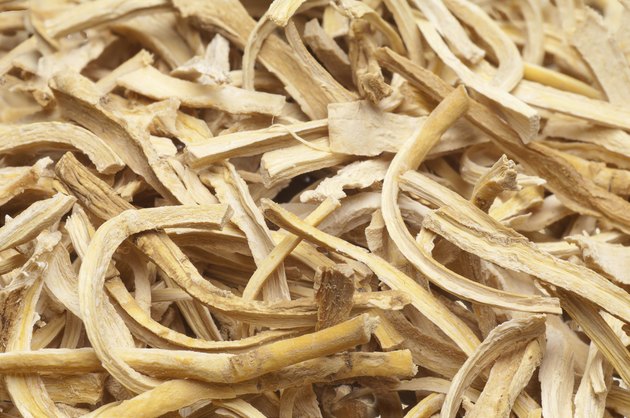 Ginseng is a plant that is commonly prescribed by practitioners of Traditional Chinese Medicine and other alternative therapies. Available in both American and Korean varieties, ginseng is primarily cultivated for the root, which has been linked to health benefits including improved memory functions and sexual performance in men. For best results, talk to your doctor about the possible benefits and ramifications of taking ginseng in combination with any current medicines you are taking.
Types of Ginseng
According to Medline Plus, Panax or Korean ginseng is the most heavily tested of the ginseng types, and is used for functions as diverse as improved thinking, concentration, athletic endurance, physical stamina, and reducing the risk of negative symptoms such as depression, anxiety and chronic fatigue syndrome. The herb eleuthero, sometimes referred to as Siberian ginseng, is a different type of plant, and it does not belong in the ginseng family.
Preparation
There are a variety of ways to drink ginseng, the most common being by fluid extract, tincture or tea. Fluid extracts of Panax ginseng are undiluted and are often purchased in small, single-serving containers. Herbal tincture manufactures often dilute the extract with grain alcohol at a 1:5 ratio, which are then drunk in teaspoons or dropper measurements, depending on the product. The fresh or dried root of the Panax ginseng plant can also be drunk in tea form by steeping the powdered root in boiling water.
Recommended Dosage
The University of Maryland Medical Center recommends different dosages for each method of consuming Panax ginseng. Raw fluid extracts of panax ginseng are recommended in dosages of ¼ to ½ tsp. taken one to three times a day, for a total of 1¾ to 10½ tsp. during a seven-day period. A tincture preparation of panax ginseng that has been diluted to a 1:5 ratio can be taken at a dosage of 1 to 2 tsp. one to three times a day, or 7 to 42 tsp. in a week. Individuals who are preparing teas made of fresh or dried ginseng root should keep their weekly intake to 14 g. or less in intervals of 2 g. a day. Due to its stimulant characteristics, Panax ginseng is not recommended for use by children.
Safety Concerns
Like all supplements, ginseng is not for everyone and may cause complications with some medicines. Talk to your doctor before adding high quantities of ginseng to your diet, and always follow the instructions printed on the label of your product. If you begin to feel nausea, dizziness or other negative symptoms, discontinue your ginseng consumption immediately and contact your doctor.