Though your taste buds may have prompted you to keep going, your stomach screamed louder that enough is enough and the leftover crab was saved for another meal. When that meal comes around and you plan to finish what you couldn't previously, it's important to make sure that it's heated correctly. Crab meat is low calorie, high protein food that also contains calcium. If leftover cooked crab is on the menu today, reheat it in the microwave for a simple and safe way to get it to your table quickly.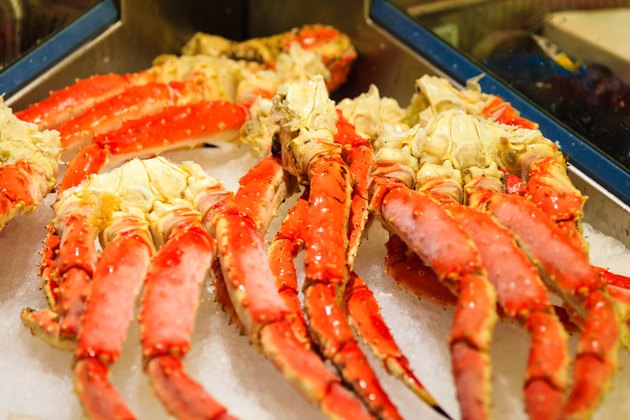 Step 1
Dampen three to four paper towels and wring them out gently.
Step 2
Wrap the damp paper towels around the leftover crab. For crab meat with no shell, place it onto a microwave-safe plate and place the paper towels over it.
Step 3
Set the microwave to "high."
Step 4
Heat the crab in the microwave for one to two minutes.
Step 5
Take the crab out of the microwave and check the temperature. Leftover cooked crab should be 165 degrees F. If you don't have a thermometer, look for steam coming from the crab as a visual indication that it is done. Continue to heat the crab for a minute at a time until it is at the correct temperature.
Things You'll Need
Paper towels

Microwave-safe plate

Thermometer
Tip
Serve the cooked crab with melted butter or low-fat butter substitute. If the cooked crab legs were frozen, place them in the refrigerator the night before you plan to use them.
Warning
Cooked crab must be used within three days unless it is kept in the freezer. Frozen cooked crab should be used within a month.