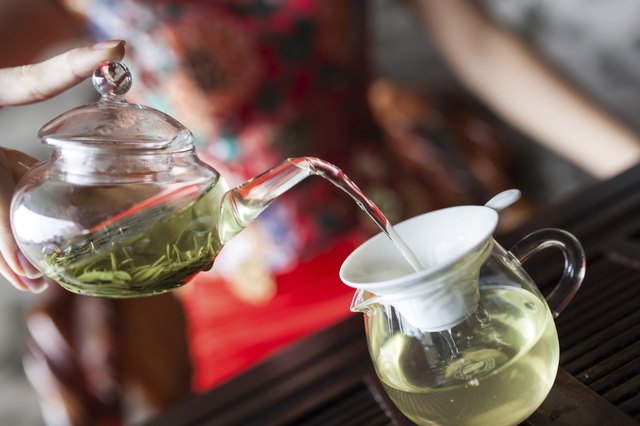 Heartburn is characterized as a burning sensation in your chest or throat, and while this is a common ailment, if you experience heartburn more than two times per week, you may have a condition known as GERD, or gastroesophageal reflux disease. Heartburn is caused by stomach acid backing up into your esophagus, and the esophageal muscles in those with GERD do not close tightly, allowing acid to reflux. Heartburn may be controlled or triggered through foods and beverages, and while green tea is the second most common drink, research shows it may aggravate heartburn in some people while relieving heartburn in others.
Active Constituents
Scientists believe polyphenol compounds known as catechins provide green tea with its medicinal health benefits. Green tea contains six catechins, however apigallocatechin gallate, or EGCG, is believed to the most active out of these compounds. Catechins are known to have powerful antioxidant properties, which work in your body to eliminate free radicals and repair damage done to healthy cells. Other active compounds found in green tea include theophylline, theobromine, caffeine and tannins.
Heartburn Relief
Green tea may help prevent heartburn by enhancing the contraction of the lower esophageal sphincter. Since heartburn is caused by the release of acid into the esophagus, this action may prevent acid reflux by maintaining a tightly closed sphincter. While the use of green tea for heartburn relief is rich in folk medicine, scientific evidence supporting the aforementioned claim is unavailable. Further research must be performed to determine the value of green tea on heartburn relief.
Esophageal Cancer
Over time, acid reflux can erode the lining of your esophagus, and if left untreated, you may develop Barrett's esophagus, which is when the esophagus is damaged. PubMed Health states esophageal damage increases your risk of developing esophagus cancer. If green tea is proved to control heartburn by tightening the esophageal sphincter, it may be used as a preventative treatment for esophageal cancer. The University of Maryland Medical Center cites a study where green tea polyphenols were administered to animals with esophageal cancer. Researchers found these antioxidant compounds inhibited the growth of esophageal cancer cells; however, another study found the consumption of green tea increased the risk of developing this cancer. Due to conflicting study results, further research is required to establish the true effect green tea has on esophageal cancer.
Safety Considerations
Since the acidity in green tea may aggravate heartburn symptoms, discuss the use of green tea extract capsules with your physician. Side effects associated with green tea are largely attributed to its alkaloid, or caffeine, content and include insomnia, heart palpitations, irritability and dizziness. If you have anxiety, kidney disorders, stomach ulcers or heart problems, do not supplement with green tea without direct consent from your doctor.