General Mills produces Fruit Roll-Ups, a fruit-flavored snack that resembles fruit leather in appearance and texture but not in nutritional value. Roll-Ups are gluten-free and fat-free. They are a novel snack for children and contain added vitamin C. Nutritionally, they may be a better snack than candy, but Fruit Roll-Ups don't stack up very well when you compare them to fresh or dried fruit.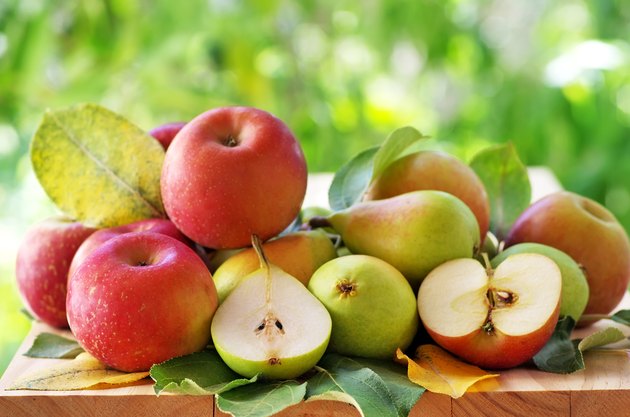 Ingredients
Ingredients in Fruit Roll-Ups as listed on the Fruit Roll-Ups Variety Pack box include pears from concentrate, corn syrup, dried corn syrup, sugar and partially hydrogenated cottonseed oil. Fruit Roll-Ups also contain 2 percent or less than 2 percent citric acid, sodium citrate, acetylated monoglycerides, fruit pectin, dextrose, maltic acid, ascorbic acid, natural flavor and the following food coloring: blue 1, red 40 and yellows 5 and 6.
Nutrition
One Fruit Roll-Up contains 50 calories. It has 1 g of fat – but no saturated or trans fat – 12 g of total carbohydrates, including 7 g of sugar, and 0 protein. A Roll-Up contains 10 percent of the recommended daily allowance of vitamin C.
Considerations
Enjoy Fruit Roll-Ups only occasionally, because they are primarily empty calories. The refined carbohydrates in this snack, which come from corn syrup and sugar, lack essential vitamins, minerals and other nutrients.
Alternatives
For a more nutrient-dense snack consider fresh fruit or dried fruit. For example, a half-cup of fresh pear slices contains 41 calories, 2 g of dietary fiber and 11 g carbohydrates including 6 g of sugar. Fresh pear slices also contain potassium, vitamin C and several micronutrients. A quarter cup of prunes contains 112 calories, 29 g carbohydrates including 15 g of sugar and 3 g of dietary fiber. Prunes also contain vitamin A, calcium, iron, potassium and several micronutrients.