Professional basketball players compete in 82 games during the regular season and their knees take a tremendous amount of abuse over the course of the year. When a player's patellar tendon swells from jumping or falling, it causes a condition referred to as jumper's knee or patellar tendinitis. Patellar tendinitis is one of the several possible diagnosis of anterior knee pain. Symptons can include discomfort and tenderness in the patellar tendon when the knee is extended and the quadriceps relaxed. Without proper care, this condition can worsen leading to a tear or degeneration of the tendon.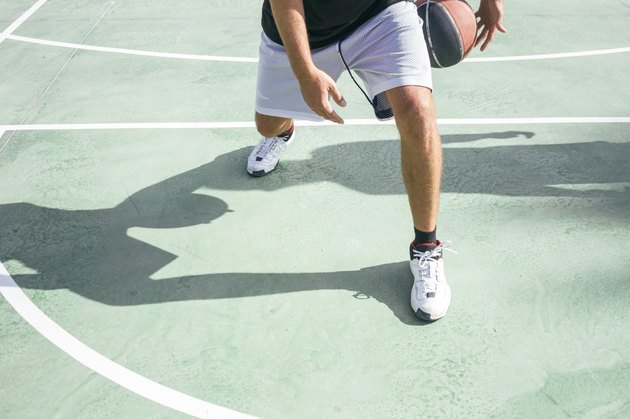 Warm Up Prior to Workouts
Never go out on the court and start practicing or playing without warming up. Do a light jog for at least five minutes to get started. After that, you need to do some dynamic stretching of the hips, quads, knees, calf muscles and hamstrings. Warming up properly will help you cut down on your chances of developing a serious case of jumper's knee.
Off-the-Court Strengthening
A professional basketball player must train off the court as well as improve his skills on the court. Proper strength-training exercises include leg curls, the leg press, lunges and calf raises. When you build strength in the muscles that support the knee, you have a better chance of avoiding patellar tendinitis.
Protecting Your Knees
If you have patellar tendinitis, or if knee injury happens during practice or a game, apply the RICE method -- rest, ice, compression and elevation -- to help reduce the pain and swelling. To prevent jumper's knee and other knee injuries, wear appropriate protective equipment such as knee pads and shin guards during practices and competition.
Medical Treatment
You have to be honest with yourself, your team trainer and the team's physician. When you are feeling pain as you move up and down the court and the pain does not abate, you should not be on the court. Rest can help your recovery, but continuing to play with jumper's knee can lead to more significant problems. Ligament, tendon and cartilage damage are more likely to develop when players with jumper's knee don't rest. Players should not try to play through the pain. They need to take time off and seek medical treatment.