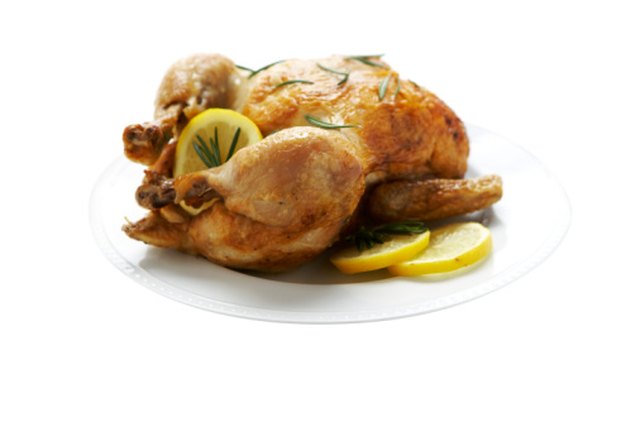 When the word "steroids" is mentioned, most people automatically assume the speaker is discussing the illegal use of anabolic steroids for performance enhancement. In fact, physicians prescribe steroids for various conditions, including the improvement of your body's ability to increase healthy lean body mass. In doing so, physicians often tell patients simply to "eat better," without providing specific guidance.
Protein Sources
Increase your lean protein intake. Steroids work by increasing the levels of serum testosterone in your blood. This increases lean body mass by facilitating the synthesis of new muscle tissue. To synthesize new muscle tissue though, the body has to have the protein nutrients present in the system.
Eat more lean meat, chicken, fish, eggs and dairy. Like humans, animal tissue is comprised of protein. The body consumes this protein and breaks it down into the component amino acids. The increase in serum testosterone provided by steroids enhances the body's ability to transform the amino acids into human muscle tissue.
Dietary Fats and Cholesterol
Consume healthy fats and cholesterol. Dietary fat and cholesterol have gained a poor reputation due to faulty understanding of how your body utilizes these nutrients. In fact, dietary fats assist the body's normal functioning. Cholesterol is a precursor to testosterone production in the body. The fat and cholesterol found in egg yolks, as an example, is perfectly healthy according to strength coach Mark Rippetoe and Lon Kilgore, Ph.D., the authors of "Practical Programming for Strength Training."
Eat fatty fish like cod and salmon. Nutritionist and strength and conditioning specialist Dr. John Berardi, Ph.D., CSCS, in his book "The Metabolism Advantage: An 8-Week Program to Rev Up Your Body's Fat-Burning Mechanism-At Any Age," points out that fats are more critical to good health and tissue regeneration than carbohydrates are.
Dr. Berardi recommends the consumption of red meat as superior to lean poultry for lean muscle hypertrophy and regeneration. His claim is that while your body can create glycogen without dietary carbohydrates through the process of "gluconeogenesis," you cannot survive very long without dietary fats.
Complex Carbohydrates
Restrict your carbohydrate consumption to complex, fiber-rich carbs such as vegetables and whole grains. Eat whole oats, bran, cucumbers, cauliflower and similar choices. These provide necessary fiber to help you stay active, while satiating you sooner, preventing overeating, which could result in fat gains rather than lean body mass increases.
Avoid simpler sugars while you are on your physician-prescribed steroid cycle. Consuming simple carbs due to poor dietary intake leads to insulin spikes resulting in the production of estrogenic hormones within the body. This is contraindicated for your diet if you already on a steroid cycle for improving your hormonal balance.