Milk and other dairy products provide significant nutrients for pregnant women. While it is possible to obtain the nutrients in milk from other sources, milk consumption in pregnancy has been associated with better pregnancy outcomes in clinical research. According to USDA recommendations, pregnant women should consume three cups of milk or other dairy products each day. Nonfat and low-fat milk are healthier choices for pregnant women than reduced fat and whole milk, which contain high amounts of saturated fat.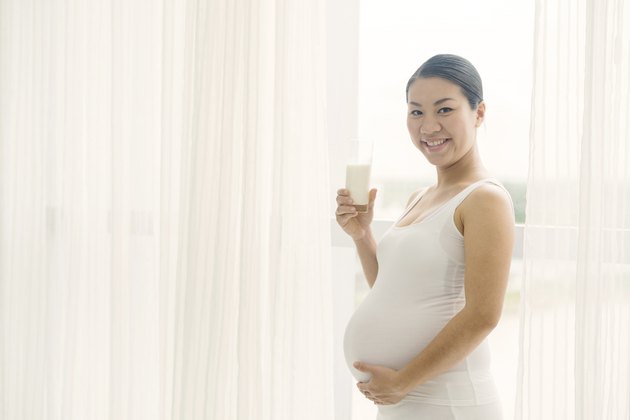 Calcium
Milk is an important source of dietary calcium for pregnant women. If you don't consume enough calcium-rich foods like milk during pregnancy, you will lose calcium from your bones to meet your baby's needs for this mineral. During pregnancy, women age 19 and older need 1,000 mg of calcium per day, while women under 19 need 1,300 mg/day. One cup of low-fat milk provides 305 mg of calcium, so drinking three cups each day can help you meet most of your daily calcium needs during pregnancy.
Protein
Milk is an excellent provider of protein, with a cup of low-fat milk offering 8.22 g. Protein serves a number of important functions during pregnancy, including the buildup of the uterus, blood supply, breasts and the baby's tissues. According to Ohio State University, insufficient protein intake during pregnancy is associated with decreased birth weight and health problems in babies. Besides providing more than 90 percent of daily calcium needs, drinking three cups of low-fat milk each day will help you meet more than a third of your protein needs for pregnancy.
Vitamin D
Milk is one of the few dietary sources of vitamin D, an essential nutrient during pregnancy for preventing neonatal rickets and low birth weight. According to research published in "Canadian Medical Association Journal" in 2006, while most nutrients in milk might be obtained from other foods or supplements, vitamin D is rare in food sources outside of fortified milk. One cup of fortified, low-fat milk provides 117 IU of the 600 IU of of vitamin D you need each day of pregnancy; three cups per day provides 59 percent of your needs.
Research
Some clinical studies have examined the specific effects of milk in relation to pregnancy outcomes. The aforementioned "CMAJ" research found that women who drank one cup of milk or less each day gave birth to smaller babies than mothers who drank more milk, with each cup increase in daily milk consumption increasing birth weight by 41 g. Other preliminary research, presented at the American Academy of Neurology's Annual Meeting in April 2010, found that the risk of multiple sclerosis was lower in women born to mothers with high milk intake during pregnancy.