Your children's nails can tell you a lot about their health. A change in shape or color may indicate a fungal or yeast infection, while pitting may be a sign of psoriasis. Even what your child eats, or doesn't eat, can affect nail health. A healthy, balanced diet for your child may help prevent or improve nail problems, including peeling nails. Consult your pediatrician before making drastic changes to your child's diet.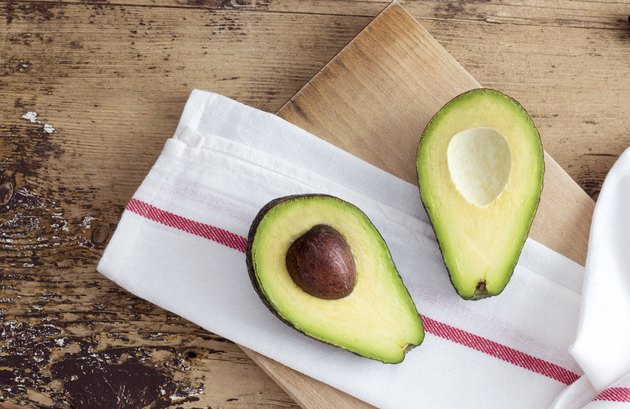 Healthy Diet, Healthy Nails
To prevent nutritional deficiencies that can cause nail peeling, your child's diet should include a variety of foods from all the food groups, including fruits, vegetables, grains, lean proteins and dairy. Maximize nutrient intake for nail health by eating calcium- and antioxidant-rich foods likebeans, seafood, poultry, blueberries, cherries, leafy greens, bell peppers, whole-wheat bread, brown rice and almonds.
Biotin: The Nail Nutrient
Biotin, part of the B complex of vitamins, helps convert food into energy. A study published in the "Journal of Drugs in Dermatology" in 2007 found that supplementation with biotin helped to improve brittle nail syndrome. While the evidence to support biotin supplementation for nail health is limited, ensuring your child gets an adequate amount of biotin in the diet may help. Children need 8 to 20 micrograms of biotin a day, while teens need 20 micrograms. Good food sources include cooked eggs, avocados, cauliflower, salmon and liver.
Getting Enough Iron
Children are at risk of not getting enough iron in their diet, according to the Office of Dietary Supplements. Iron deficiency anemia can affect nail health and is associated with a condition called koilonychia, which causes nails to be thin and curved inward. Children need 7 to 10 milligrams of iron a day, depending on their age. You can improve your child's iron intake by making sure he eats fortified whole-grain breakfast cereals, chicken, beans such as garbanzo or white beans and peas.
Protein, Please
Nails are primarily made up of keratin, which is a type of protein. Not getting enough protein in the diet can cause your child's nails to crack and peel. If your child is eating a healthy, balanced diet, it is likely that he is getting enough protein. Children need 19 to 34 grams of protein a day. Food sources of protein include chicken, fish, beans, vegetables and whole grains.