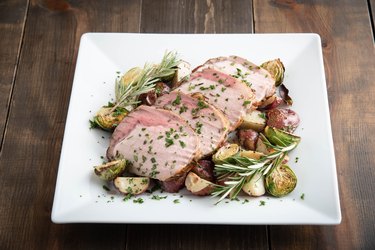 Despite what you may have heard, red meat such as pork can make a healthy addition to your diet. For an easy and nutritious option, consider mastering the skill of making a pork loin roast with olive oil in aluminum foil.
Health Benefits of Pork
You wouldn't be the first person to avoid pork because of its saturated fat or sodium content, but that's not to say that pork can't be a healthy addition to your diet. In fact, the National Pork Board explains that seven different cuts of pork meet the USDA's classification guidelines for lean meat.
Pork loin is among the leanest pork cuts, along with pork chops. In fact, many cuts of pork loin are even leaner than skinless chicken breast. Pork is a great source of protein, as well as many vitamins and minerals. The National Pork Board notes that pork offers nutrients including potassium, riboflavin, zinc, vitamin B6, thiamine, phosphorus and niacin.
If you're aiming to keep your pork lean, avoid cooking it in butter or margarine and instead use a plant-based fat like olive oil. When you make a pork loin roast in olive oil, you'll be adding additional health benefits.
The American Heart Association notes that olive oil and other plant oils is linked to better cardiovascular health. Specifically, people who consume more than 1/2 teaspoon of olive oil a day enjoy a 15 percent lower risk of cardiovascular disease and a 21 percent lower risk of coronary heart disease.
Are You Getting Enough Protein?

Track your macros by logging your meals on the MyPlate app. Download now to fine-tune your diet today!
Roasting Pork in Aluminum Foil
One popular option when cooking pork loin is roasting. Although the National Pork Board acknowledges that "roasting" traditionally means cooking meat at 400 degrees Fahrenheit or hotter, pork will fare better "slow-roasted" between 200 and 325 F. This will result in less moisture loss and a tender finished product.
Another way to preserve moisture is by rubbing the pork loin in oil and then wrapping it in aluminum foil. In a method described by Allina Health, you can create foil packets filled with pork, seasonings and vegetables, all bound up, and cook them all together in the oven.
This preparation starts with a piece of foil as large as a baking sheet. Place the pork in the center of the foil and drizzle it with olive oil. After seasoning the meat and adding the cut vegetables of your choice, fold the foil over and wrap the ends tightly to create a sealed pack. Place the foil pack in the oven at 350 F for 40 to 50 minutes.
Health Concerns to Consider
According to an October 2019 study published in Food Science & Nutrition, which looked at 11 different types of food baked in aluminum foil, aluminum residue in food was not considered alarming but could be hazardous for small children or people with chronic renal failure. It's also worth noting that the highest concentration of aluminum found occurred in marinated pork roast.
Regardless of whether you opt to use aluminum foil or whether you cook the pork loin roast at 400 F or 200 F, it's important that you make sure the center of the loin reaches 145 F to avoid the risk of trichinosis.
The Cleveland Clinic explains that trichinosis is a foodborne illness typically contracted from raw or undercooked pork products. It is characterized by symptoms that may include abdominal pain, diarrhea or constipation, fever, chills, muscle soreness, headaches and eye swelling.