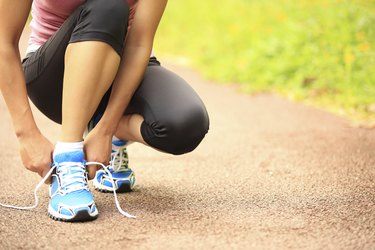 The arches of the feet are formed by bones, ligaments and tendons. Arch height establishes foot type and pronation, or the inward rolling of the foot while walking. Women with low arches do not have a characteristic arch and tend to overpronate, which causes injuries. "Flat feet " refers to arches that rest flat on the ground.
Features of Walking Shoes
Walking is a convenient form of exercise to improve health. A comfortable, supportive walking shoe is essential equipment for a walker. It is imperative for women with flat feet to wear properly fitted walking shoes that feature support, stability and motion control.
Stability Feature
Stability classifies athletic shoes that are designed for overpronation. Every major athletic shoe brand carries a collection of stability shoes. The main technology found in a stability shoe is dense foam on the inside portion of the arch and occasionally to the heel. This keeps the foot in a proper position within the shoe.
Arch Support Feature
Having flat feet is generally painless; the ankles may become overstressed due to overpronation as a result of the low arch. Many walking shoes offer exceptional heel and arch support, in addition to significant shock absorption. Adequate arch support will put your arch in the right, stress-free position.
Motion Control Feature
Motion control is a feature in walking shoes for the most serious overpronators. Proper shoes help the ankles to support the body and reduce leg pain created by overpronation. Special materials are added to the shoe to hinder excessive foot movement.