Trigger thumb, also called stenosing tenosynovitis, is caused by a problem with the flexor tendon, which bends the thumb, and the tunnel it moves through. The tunnel is made up of a series of rings, or pulleys, that keep the tendon close to the bone. When trigger thumb develops, the pulley nearest the palm becomes swollen and constricted. The tendon can't glide smoothly through the tunnel, and friction causes irritation and the formation of a nodule on the tendon, making it even harder to move through the tunnel. The thumb eventually gets stuck in a flexed position.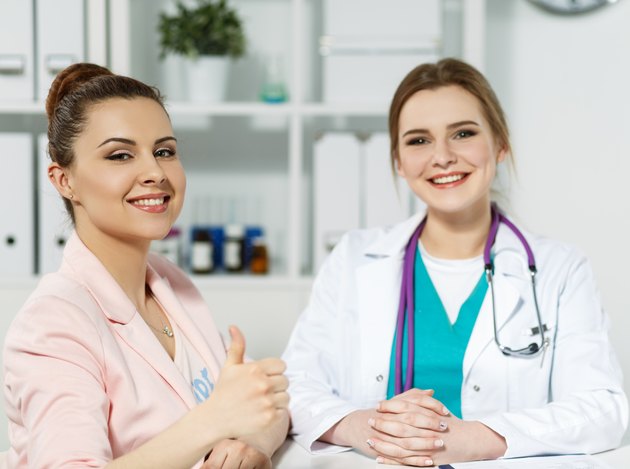 Pain
Pain from trigger thumb is felt at the base of the palm and is generally worse when you first wake up in the morning or after periods of inactivity. The area at the base of the palm may be tender. Stiffness is common in the morning; the finger may become more flexible and easier to move as the day goes on. Pain intensifies when the swollen tendon tries to pass through the constricted sheath, and you may feel a popping sensation. As the catching intensifies, it may feel like the finger is dislocated every time the tendon passes through the tunnel, the American Academy of Orthopedic Surgeons explains. People with trigger thumb may keep the thumb bent, or flexed, to reduce pain. Cortisone injections to reduce the swelling followed by bracing to rest the tendon and keep swelling down may help temporarily, but the problem will probably recur, the Hand University claims.
Skin Symptoms
Trigger thumb can cause swelling that may be tender to the touch at the base of the thumb; a nodule, or small lump, may also be felt along the tendon. The nodule forms on the tendon because by the constant pressure of the tendon rubbing against the sheath or tunnel that's too small.
Clicking and Sticking
One distinctive symptom of trigger thumb is a clicking sound when you extend your thumb from a bent position. The click is caused by the tendon moving past the nodule; you can feel it as well as hear it. The thumb may stick as it passes through the pulley, then suddenly straighten, or unlock, as the tendon moves past the nodule. Eventually, the thumb locks in the trigger position. Surgical release is necessary once the thumb is stuck in the bent position.
Infant Symptoms
Trigger thumb occurs occasionally as a congenital defect at birth but is usually not diagnosed until age 3 months, since infants keep their thumbs in a flexed position normally. Approximately 30 percent of cases in infants resolve on their own, according to Adrian Flatt, M.D., of Baylor University; the rest need surgical intervention by age 3.