A good breakfast sets the tone for the rest of the day -- it should keep you satisfied for hours after eating to prevent midmorning cravings, offer energy to keep you alert and provide essential nutrients to help you avoid a deficiency. And while many breakfast staples, such as oatmeal, are high in carbohydrates, that doesn't mean you can't enjoy a healthy low-carb breakfast. Make a delicious breakfast from low-carb diet staples, such as eggs, or use ingredient substitutions to make low-carb versions of carb-filled classics.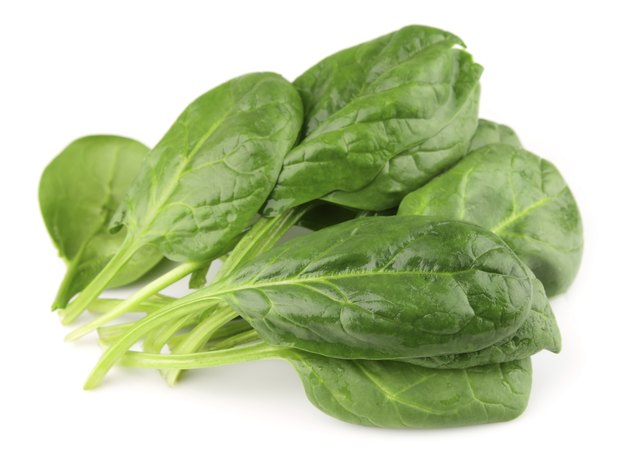 Why Go Low-Carb at Breakfast?
Cutting the carbohydrate content of your breakfast might have health benefits, whether or not you follow a low-carb plan for the rest of the day. A protein-packed breakfast might fill you up more than some carb-filled ones, according to a study published in the International Journal of Obesity. The researchers of the study compared the effects of a high-protein egg breakfast to a higher-carbohydrate bagel breakfast on weight loss in over 150 overweight adults. While both groups followed a calorie-controlled diet over the eight weeks of the study, the egg eaters lost more weight and body fat than the bagel eaters, even though both breakfasts contained the same number of calories. This hints that upping your protein intake earlier in the day might help you shed pounds, if that's your fitness goal.
Simply getting more protein can also benefit your health. Protein supplies amino acids, which are the building blocks of muscle tissue, the antibodies that make up part of your immune system and many other tissues throughout your body. Starting your day with a high-quality protein meal helps ensure you'll get the protein you need for good health.
Upgrade Your Omelet
Eggs are a low-carb diet staple, since each egg has less than a gram of carbohydrate. Plain eggs and plain omelets can get boring, though. Upgrade your omelet by experimenting with different combinations of fibrous vegetables and herbs, which are naturally low in carbohydrates.
For example, fill your omelet with diced broccoli, cauliflower and kale for a flavorful green omelet, and add an ounce of feta cheese -- which contains 1 gram of carbohydrate -- for extra flavor. Or mix your feta cheese with chopped fresh herbs, like rosemary, sage, parsley and basil, for savory and flavor-filled omelet filling.
Go for a low-carb Western-inspired breakfast by filling your omelet with chopped red and green pepper, onions, mushrooms and nitrate-free ham. If you need a heartier breakfast, add an ounce of low-fat cheddar cheese -- it adds 48 calories but just half a gram of carbohydrate. Or try a multigreen omelet stuffed with steamed spinach, kale, collards and mustard greens, with an ounce of feta or cheddar added for extra flavor.
Try Egg Boats, Too
If you have a few extra minutes in the morning, try making low-carb egg "boats." Assembling the boat is simple -- you hollow out half a tomato or remove the pit from an avocado, drop an egg into the hole and bake until the egg is cooked. A tomato half or avocado half have about 2 grams of net carbs each.
Season your egg "boat" with low-carb seasonings like salt and pepper, or get more creative by sprinkling fresh parsley or cilantro on your egg boat. If you need more calories, put a little low-carb cheese in the tomato or avocado before you add the egg -- each bite will have gooey, cheesy flavor.
Whip Up a Tofu Scramble
Following a vegetarian, vegan or egg-free diet doesn't mean you need to miss out on low-carb breakfasts. Use firm tofu -- which contains less than a gram of net carbs per quarter-block -- to make vegetarian or vegan scrambled "eggs." To make the scramble, simply drain the excess water from the tofu and then tear it into small, irregular pieces, so it looks similar to the curds in scrambled eggs. Then sauté the tofu scramble with your favorite veggies for a simple low-carb breakfast.
Tofu absorbs the flavor from other ingredients as it cooks, so you can try virtually any combination of low-carb veggies, cheese and spices. Try an Indian-inspired tofu scramble made from cauliflower, kale, zucchini and curry spices, or a Mediterranean-inspired scramble that contains feta cheese, black olives, lemon juice and Italian spices, with a few slices of cucumber -- served raw -- on the side.
Make Low-Carb Breakfast Tacos and Burritos
Breakfast burritos from the drive-through are out of the question on a low-carb diet -- an 8-inch wheat flour tortilla contains 25 grams of carbs -- but you can make low-carb breakfast tacos and burritos at home.
Use low-carb ingredients -- including scrambled eggs, chopped chicken or turkey breast, low-sodium and low-nitrate sausage, vegetables and low-fat cheese -- as your fillings, and forego the tortilla or taco shells by using hearty greens, instead. Wrap your fillings in a collard leaf with the stem removed for a breakfast burrito, or make breakfast tacos by adding your fillings to small, boat-shaped romaine leaves, taken from the center of the head of lettuce. An inner romaine leaf has just 0.1 gram of net carb, so even a few leaves can fit into a low-carb diet.
Go for Low-Carb Pancakes and Waffles
Pancakes and waffles are typically off-limits on a low-carb diet, but you can make a low-carb, high-protein alternative work for you. Low-carb protein pancakes and waffles use protein powder as the "flour." The carb content of your protein powder can vary from brand to brand, so always check the label, but one commercially available whey protein powder has just 7 grams of carbohydrates in each two-scoop serving.
Combine your protein powder with an egg to act as a binder, a little cinnamon or pumpkin pie spice for flavor and a few tablespoons of milk to thin the batter. Each tablespoon of milk adds roughly 1 gram of carbohydrate, so add your milk 1 tablespoon at a time until you get the right consistency to minimize your carb intake.
Add the batter to a nonstick waffle iron, or cook your pancakes in a nonstick frying pan, using cooking spray as an extra barrier against sticking. Then top your pancakes or waffles with sugar-free syrup, a few sliced berries or an extra sprinkling of cinnamon.
Make Chia "Oatmeal"
Oats are a diet staple, but they won't work in many low-carb diets. Instead, use chia seeds as lower-carb alternative. Each ounce of chia seeds has just 2 grams of net carbs, and it's packed with fiber and protein to keep you feeling full. Thanks to the high fiber content, chia absorbs water to form a gel, which is why it works as a lower-carb oatmeal substitute.
To make your chia "oatmeal," pour boiling water over your chia seeds and then stir, allowing the seeds to absorb the fluid and thicken your mixture. Add cinnamon, a touch of sugar-free syrup or other low-carb mix-ins -- like ground or sliced almonds, or shredded coconut -- for a warm, comforting breakfast option.
Blend a Veggie Smoothie
Most smoothies contain lots of fruit -- and sometimes sweetened yogurt or honey -- making them hard to fit into a low-carb diet. But you can make lower-carb smoothies by using vegetables, instead.
Make a green veggie smoothie by blending iced unsweetened green tea, kale, parsley, celery and lemon juice together, and add a scoop of vanilla-flavored protein powder for added creaminess. Or make your smoothie with unsweetened coconut water blended with berry-flavored protein powder, a handful of baby spinach and chard, plus fresh mint for refreshing flavor. If you need the sweetness of some fruit in your smoothie, try a lower-carb fruit like raspberries or blackberries. They contain 7 grams and 6 grams of net carbohydrates per cup, respectively.