Diabetes is becoming a more common disease, now affecting 23.6 million children and adults in the United States, according to the American Diabetes Association. There are several types of diabetes, and once diagnosed, your physician will educate and monitor you closely to ensure optimal and safe health care for your condition. Knowing the symptoms of a diabetic emergency is useful whether you suffer from the disease yourself, have a friend or family member with the condition or happen upon a stranger in a diabetic crisis. All diabetic emergencies require immediate medical attention. If you experience a diabetic emergency firsthand, or are providing care for someone who is, call 911 immediately.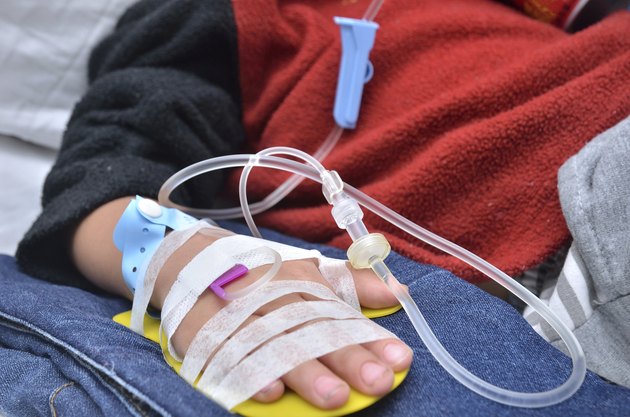 Hypoglycemia
Hypoglycemia is a condition in which someone is suffering from dangerously low levels of blood sugar. For someone who is diabetic, this usually results from taking too much insulin or not eating properly. The sugar found in the blood is a necessary food for the brain and other organs to function properly and low bood sugar needs to be treated immediately. Symptoms of hypoglycemia include cold and clammy skin, confusion, poor balance, feeling faint and rapid heartbeat. Call 911, and while waiting for the ambulance provide sugary drinks such as orange juice and soda, or place pure sugar under the tongue and inside the mouth. If the person has become unconscious, only put the a small amount of sugar under the tongue and along the inside of the cheeks, while rolling the person onto their side. Monitor them to ensure choking does not result.
Hyperglycemia
Hyperglycemia is when blood sugar levels are excessively high. The symptoms are very similar to hypoglycemia and are often confused before medical treatment is received. If you are in doubt to which scenario a diabetic is suffering from, give them sugar. Hypoglycemia can lead to brain death quickly, where hyperglycemia usually takes days to develop. The person will experience hot and dry skin, frequent urination, uncontrollable thirst, confusion and fainting. The diabetic may also experience shaking and feeling faint. Any excess sugar given to this person will be controlled by health care professionals when the person reaches the hospital and can be crucial in the event that at home the person thought they were experiencing low blood sugar rather than high blood sugar.
Ketoacidosis
Ketoacidosis is a condition that is a result of high levels of ketones in the body. When the body uses stored fats for energy as opposed to sugars, ketones are a by-product. This usually occurs when a diabetic is not eating properly, is using too much insulin, or when the body is so insulin-resistant, that the body is not able to utilize blood sugars for energy and must use the body fats. A key symptom of ketoacidosis is a fruity smell to the breath. Additionally, the diabetic will experience excessive thirst, flushed and dry skin, confusion and fatigue. A sign that this condition has become immediately life-threatening is if the diabetic has began to vomit.
Hyperosmolar Hyperglycemic Nonketotic Syndrome
Hyperosmolar hyperglycemic nonketotic syndrome usually occurs after the diabetic has experienced and even recovered from infection, or has experienced unusual stress. Infections and stress cause the blood sugar levels in the body to rise to very high levels, and as a result, the body tries desperately to rid itself of this excess sugar. The body does this by producing large amounts of urine. According to the Mayo Clinic, the person will then urinate frequently and lose excess body fluids leading to dehydration, electrolyte imbalances, coma and even death. Symptoms of this emergency include confusion, weakness on one side of the body, increased or rapid heart rate, fever and hallucinations.