If you have recently had breast augmentation surgery, you may have gained weight or feel out of shape from taking some time off from exercising during the recovery period. In addition, right after surgery, the tissue around the implants gets swollen, which can add on temporary pounds and make you feel big. You can regain control of your weight, however, by following some fitness and nutrition tips that will help you learn how to lose weight after breast augmentation.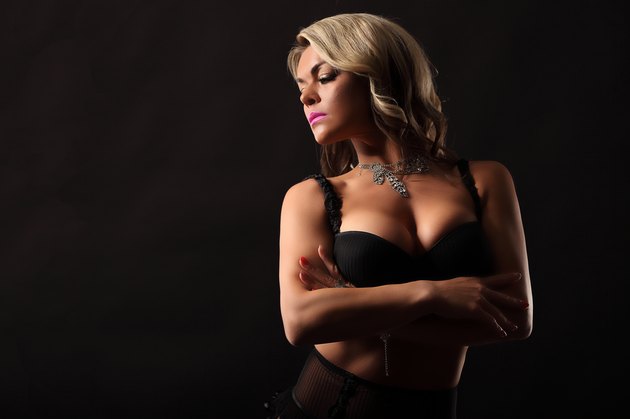 Lose weight after breast implants
Step 1
Check with your doctor to see when you can start exercising again. The time you need to rest after surgery varies from person to person, depending on the type and placement of the implants and your individual body and routine. Get checked by your doctor before you begin an exercise program.
Step 2
Eat nutritious, low-fat foods. This is something you can do right away after your surgery. The formula for weight loss is consuming fewer calories than you burn, so keep this in mind when choosing what you eat each day. Stay away from foods that are high in saturated fat and trans fats, as well as processed foods, fast food and snack foods with a lot of calories and little to no nutrients. Opt for fresh fruits and vegetables, whole grains, lean protein sources and low-fat dairy products to give your body the nutrients it needs each day.
Step 3
Begin a cardiovascular exercise program. Exercise at least five times a week for 30-minute sessions. Check with your doctor to make sure you can jump into the activity of your choice, as you may need to start out with low-impact aerobics such as cycling or walking and build up to more strenuous activities such as running or swimming. Choose an exercise that you enjoy and you will be more likely to stick with the program.
Step 4
Do light weights or calisthenics for strength training. You usually cannot do any arm or chest weight exercises for the first few months after surgery, so stick to leg weights, squats, lunges, crunches and lower body exercises. Ask your doctor when you can incorporate arm weights into your routine. Strength-training exercises help your body build lean muscle, which burns more calories than fat and increases your metabolism, leading to faster weight loss.
Things You'll Need
Comfortable exercise clothes

Supportive sports bra

Dumbbells or light weights (optional)
Tip
When you start exercising again after breast augmentation, gradually build up your workouts to their previous level. It may take a little getting used to your new body and you may have some soreness, so start slow. It's better to be cautious and make slow, steady progress than to make fast progress then get injured and have to stop working out all together.
Warning
If you feel any pain or discomfort while working out, especially in your chest area, stop exercising and consult your doctor.