1 of 17
With this beloved American ritual of watching football comes another tradition: tailgating and parties. Fans snack and sip their way through hours of tackling, passing, running and touchdowns every weekend. If you join the ranks of these revelers, you may be interested in some munchies that are tasty and healthy. We asked a few nutritionists to weigh in on their favorite football treats that won't break the scale. Read on for suggestions of great football foods that are sure to score every time.
Read more: Game-Day Guacamole With a Secret Ingredient
Image Credit:

soponbiz/iStock/Getty Images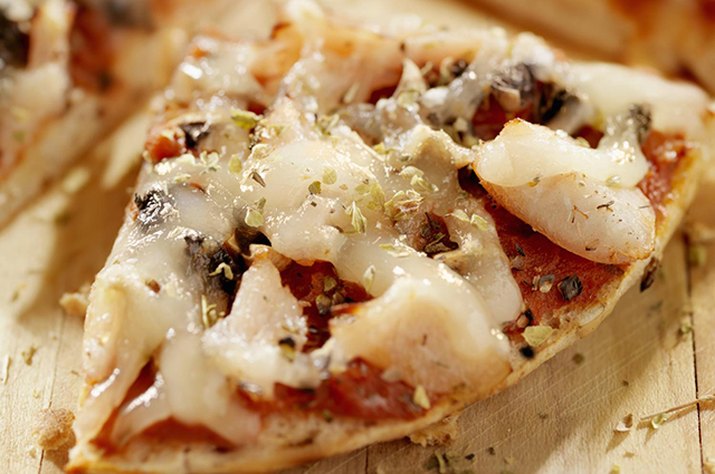 2 of 17
1. Barbecue Chicken Pita Pizzas
Pizza and football go together like salt and pepper. Dietitian Dawn Jackson Blatner has a tip for a tantalizing pizza dish that is easier on the waistline. Toss 2 cups of shredded, baked or grilled chicken in 3/4 cup of natural barbecue sauce and place the mixture atop six whole-grain pitas. Sprinkle them with 1/2 cup of sliced green onions, 1/2 cup of thinly sliced red onions, 2 cups of shredded part-skim mozzarella cheese and 3/4 cup of chopped, fresh cilantro. Bake the pizzas for 10 minutes until the cheese is bubbling and the pitas are crisp. Sprinkle with fresh cilantro, and serve it up during halftime for a midgame protein-filled energy burst.
Read more: Barbecue Chicken Pita Pizzas Recipe
3 of 17
Cayenne pepper contains vitamins A and C, as well as healthy flavonoids, carotenoids and antioxidants. Almonds are packed with arginine, an amino acid that converts to nitric oxide in the body and coaxes blood vessels into relaxing -- great for soothing nerves during those extra stressful games. Try combining these two for a spicy and fun football treat. Mix 3 cups of almonds with 1 tablespoon of olive oil -- evenly coating the nuts. Sprinkle a mixture over the almonds comprised of 2 teaspoons of chili powder, 1/2 teaspoon of garlic powder, 1/2 teaspoon of ground cumin, 1/4 teaspoon of cayenne pepper, 1/4 teaspoon of celery salt and 1/4 teaspoon of ground cinnamon. Bake at 325 degrees for 15 minutes, stirring twice. Cool the nuts and serve in team-themed cocktail bowls.
Read more: Chili Nuts Recipe
Image Credit:

bhofack2/iStock/Getty Images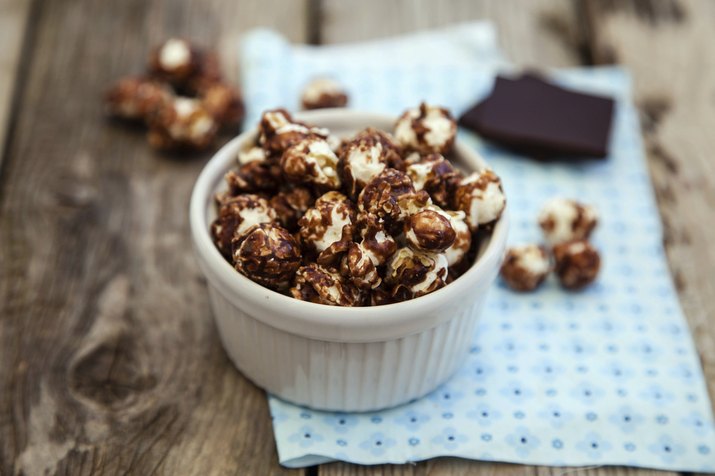 4 of 17
3. Peanut Butter and Chocolate Popcorn
If you're looking for a football snack that is a little sweet, a little salty and not too hard on the waistline, try spicing up everyday popcorn with peanut butter and chocolate. Nutritionist Dawn Jackson Blatner recommends adding 4 tablespoons of melted dark chocolate chips and 2 tablespoons of warmed natural peanut butter to 6 cups of air-popped popcorn. Place popcorn on a baking sheet, drizzle with chocolate and peanut butter and then refrigerate the dish for about 10 minutes. At only 100 calories per cup, you can enjoy this sweet and salty treat sans guilt. Transform them into game day favors by serving in little bags decorated with your team's colors.
Read more: Peanut Butter and Chocolate Popcorn Recipe
Image Credit:

Natalie_B/iStock/Getty Images
5 of 17
Dietitian Kristen Tice suggests incorporating balanced snacks that include some lean protein, grains, fruits and vegetables into your football-day fare. "By replacing high-fat, refined snacks with some healthier options, you're sure to keep your head in the game and feel energized even after it has ended," says Tice. Roasted kale chips are an airy, crispy snack, not to mention a tasty, diet-friendly substitution for potato chips. For fresh, crunchy kale chips, Tice recommends making them yourself. Start with one bunch of chopped stemless kale and add 1 tablespoon of minced garlic, 1 tablespoon of olive oil and a sprinkling of salt and pepper. Spread the kale evenly on a nonstick pan and roast in the oven at 375 degrees for 15 to 20 minutes or until the kale shrinks and is crispy.
Read more: Kale Chips Recipe
6 of 17
5. Fruit Salsa with Cinnamon Sugar Pita Chips
Kristen Tice, sports dietitian, personal trainer and owner of Elite Nutrition & Performance, recommends a healthy twist on chips and salsa. "Don't let the fruit in the name scare you! Whenever I make fruit salsa, it is usually the first thing to go," she says. Tice suggests mixing up diced apples, strawberries, kiwi, raspberries and low-sugar strawberry preserves to create a fruity, fun and healthy salsa. For a dipping accompaniment, spray sliced flour tortillas with a little butter and drizzle them with cinnamon and sugar. Cook the tortillas at 350 degrees for five to seven minutes and, voila, you have a nice substitute for tortilla chips to complement the fruit salsa.
Listen now: How to Calm Down in Under 3 Minutes
Image Credit:

pilipphoto/iStock/Getty Images
7 of 17
Buffalo wings are a staple during football season, but they can be weighed down with calories. Dietitian Dawn Jackson Blatner suggests a buffalo-themed substitution for a much healthier option. Create a buffalo-flavored hummus in lieu of Buffalo wings, which can contain around 72 calories per wing with blue cheese dressing. Jackson recommends adding a twist to regular hummus ingredients by blending garbanzo beans, tahini, fresh lemon juice, water and olive oil with a bit of hot cayenne pepper sauce, minced garlic and sea salt. Serve the hummus with chips, carrots and celery sticks. At 50 calories per 2 tablespoons, running with these buffaloes may help you to be lighter on the scale.
Image Credit:

jenifoto/iStock/GettyImages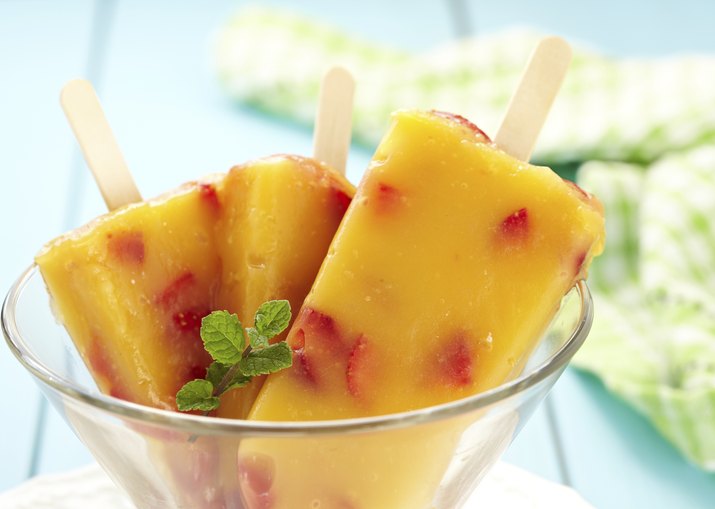 8 of 17
If you're cheering on teams in sunnier regions, create some refreshing and healthy fruit pops packed with vitamin C, protein, calcium and phytochemicals. "Many people maintain the age-old adage that if it is good for you, it can't possibly taste good," says Dr. Kaye-Ann Taylor, RDN. That isn't true. Case in point: her flavorful and fit fruit pops. For a healthy and tasty football snack, Taylor suggests combining 7 ounces of frozen fruit pulp, one container of plain Greek yogurt, 1/4 teaspoon of cinnamon and sweetener, such as agave or honey, to taste in a blender. Fill frozen pop molds with the combo, insert sticks, freeze until solid and garnish with grated dark chocolate. These cheery snacks can lift fans' spirits when the scoreboard isn't cooperating.
Read more: Tropical Fruit Pops Recipe
Image Credit:

Azurita/iStock/Getty Images
9 of 17
The combination of smoked salmon and cream cheese can tackle cravings for savory and tangy treats. Dr. Kaye-Ann Taylor, RDN, likes salmon for its generous dose of omega-3 fats and protein. To add a little twist to your salmon, she suggests mixing finely chopped bell peppers and green onions with Neufchatel cheese. Spread the mixture evenly over chilled smoked Alaskan wild salmon and then roll the salmon into pinwheels and sprinkle with finely chopped rosemary leaves for an aromatic garnish. Show your spirit by holding the shape of the pinwheel in place with toothpicks decorated with your team's colors.
Image Credit:

mathieu boivin/iStock/Getty Images
10 of 17
Take advantage of pumpkin to sneak some veggies into tailgating sweets. Dietitian Kristen Tice says using pumpkin as a substitute for oil in brownies will save you about 100 calories and 10 grams of fat, which is typically found in the traditional variety. Replace the oil in any boxed brownie mix with an equal amount of pureed pumpkin. Tice says unsweetened applesauce will yield similar results if you don't have pureed pumpkin. Follow the regular baking instructions on the box, except switch the oil with the pumpkin puree or applesauce. "These brownies tend to come out fluffier and moister than regular brownies," says Tice. "You'll never know the difference!" If you're worried about chemicals and additives in conventional brownie mixes, be sure to choose an organic mix or make them from scratch.
Read more: Worst Chemicals in Food
Image Credit:

Kimberly Johnson/iStock/Getty Images
11 of 17
10. Harvest Time Quesadillas
"Harvest Time Quesadillas are an easy way to get in a healthy, balanced snack that is sure to keep your energy levels up throughout the game," says dietitian Kristen Tice. For a healthy spin on the regular game-day quesadillas, spread one cored and sliced pear, 2 ounces of brie cheese and a handful of baby spinach over an 8-inch whole-wheat tortilla. Heat the mixture in the microwave for 45 seconds, or until the cheese is melted. Once melted, fold the tortilla, and cut it into four equal-sized wedges. For a tasty garnish, mix 1/4 cup of plain, nonfat Greek yogurt and 2 teaspoons of honey, and add a dollop to each wedge.
Read more: Harvest Time Quesadillas Recipe
Image Credit:

cookedphotos/iStock/Getty Images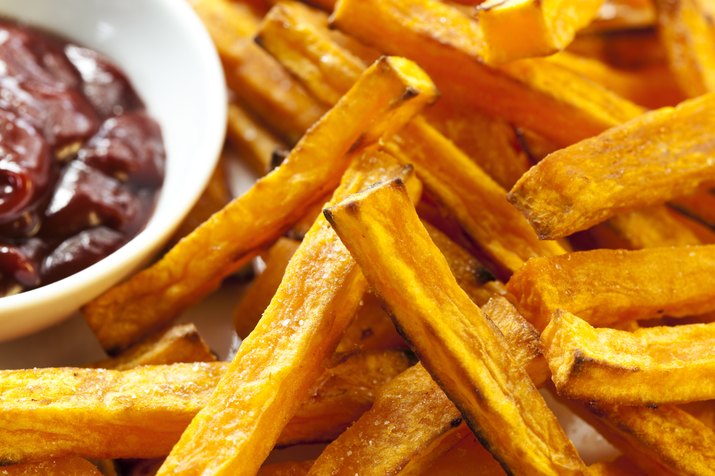 12 of 17
11. Baked Sweet Potato Fries
To add a hint of sweetness and a lot of "healthfulness" to traditional french fries, make them using sweet potatoes. Baked sweet potato fries contain about 130 calories and 5 grams of fat per 3-ounce serving, while traditional fries weight in at around 200 calories and 13 grams of fat for the same amount. To make sweet potato fries, cut two large sweet potatoes into 1/2-inch-thick sticks, leaving the skin on. Microwave them for three to four minutes, stirring once, and let the fries set for five minutes. In the meantime, whisk three large egg whites with salt until frothy. Dredge batches of the sweet potato slices through the mixture letting the excess drip off. Then, bake them at 450 degrees for 10 minutes, flip them and bake for another 10 to 15 minutes.
Read more: 9 Ways to Make Sweet Potatoes That Will Blow Your Mind
Image Credit:

Robyn Mackenzie/iStock/Getty Images
13 of 17
12. Dark Chocolate Apricots
If your guests are craving something tangy and sweet, pair two superfoods -- fruit and dark chocolate -- for a super snack. Pick up some dried apricots, which are low in fat and high in fiber, vitamin A and potassium. You'll also need about 3 ounces of dark chocolate, which contains theobromine, antioxidants and flavonoids. Warm up the chocolate in the microwave until it is melted, dip the apricots halfway into the mixture and place them on a baking sheet. Let the apricots set for about an hour before serving. These sweet, tangy treats are a healthy substitution for candy, cakes and other sugar-filled foods.
Image Credit:

Vera Dolezalova/iStock/Getty Images
14 of 17
13. Cucumber-Dill Yogurt Dip
It's difficult to find a football fiesta that doesn't include some kind of creamy, calorie-laden dips and dressings. For a version of this favorite that isn't loaded with calories, try a tip from Aida Mollenkamp of the Food Network that substitutes yogurt for mayonnaise and sour cream. In a big bowl, combine 2 cups of plain whole-milk yogurt, 3/4 cup of diced cucumber, 2 tablespoons of minced fresh dill, 1 teaspoon of ground coriander, 3/4 teaspoon of red pepper flakes, 1/2 teaspoon of white wine vinegar and 1 teaspoon of kosher salt. Season it with freshly ground black pepper to taste. Serve with a selection of fresh dipping vegetables such as cucumbers, mushrooms, carrots, roasted beets and celery, then dip, crunch and munch as you root on your team.
Image Credit:

IngridHS/iStock/Getty Images
15 of 17
14. Chocolate Pretzel Crunch
Nothing pairs with tailgating like some pretzel-centric food. For a sweet spin on this classic crunch, try this version. Mix together 1 cup of Chex cereal, 1 cup pretzel sticks -- broken in half -- and 1/4 cup salted, roasted almonds. Melt 3 tablespoons of bittersweet chocolate chips in the microwave and drizzle over the dry mixture. Spread the combination on a baking sheet lined with wax paper and refrigerate for about 30 minutes or until set. Increase the amount as needed depending on the number of tailgaters. This addictive combo will be lucky to make it to halftime.
Read more: Chocolate Pretzel Crunch -- MyPlate Recipe
Image Credit:

Ron Orman Jr/iStock/Getty Images
16 of 17
15. Grilled Marinated Vegetables
Instead of high-calorie potato chips, Dr. Kaye-Ann Taylor, RDN, suggests a much lighter option that also doubles as a generous dose of vitamin C and B. "In the height of the football season, there is no reason for our healthy eating habits to go awry," says Taylor. "With a little planning, snacks during the game can contribute to healthy eating." Taylor suggests dressing up red bell peppers, Portobello mushrooms, squash, asparagus and zucchini. Brush the vegetables with olive oil and sprinkle with salt and pepper. Grill them to tenderness and drizzle with a mixture of balsamic vinegar and a bit of garlic and rosemary leaves. Marinate the veggies for a while and sprinkle with Parmesan cheese before serving.
17 of 17
What are your favorite tailgating and football party traditions and snacks? Do you aim for healthy snacks or do you find yourself splurging on more decadent treats? Share your favorite recipes below in the comments section. Also, give a shout-out to your favorite teams!
Read more: How to Make Healthy Game-Day Potluck Fare
Image Credit:

Digital Vision./Photodisc/Getty Images