Sore throats occur in people of all ages and prompt at least 10 million healthcare visits each year, according to the Centers for Disease Control and Prevention. Most sore throats occur due to a viral infection, which typically clears without medical treatment in roughly 5 to 7 days. While waiting for your sore throat to heal, you might find relief from your discomfort by drinking certain warm or cold beverages.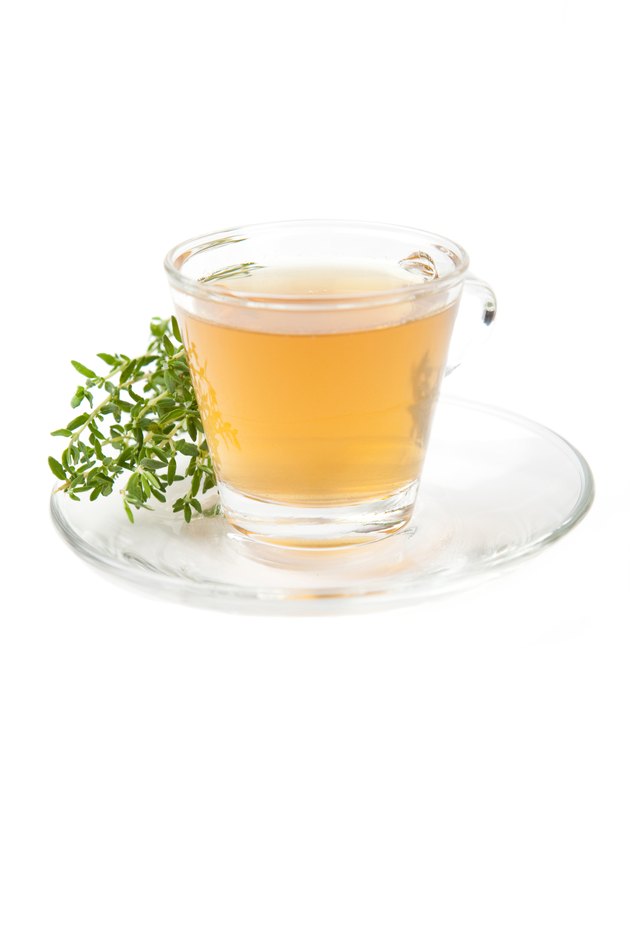 Cold Liquids
Many people find cold or icy beverages soothe sore throat pain. This might be due to decreased pain signals related to cooling the throat tissues. While there is no research showing that certain cold beverages are more effective than others, it's usually best to avoid carbonated or citrus drinks, as they might aggravate your throat pain. Smoothies can provide needed calories if you don't feel like eating solid food. Other cold beverage options include: -- ice water or ice slurry drinks -- nonacidic fruit or vegetable juices -- dairy or nondairy milks
Warm Liquids
While some find cold beverages soothing, other people experience more sore throat pain relief with warm liquids. Clear broth and hot tea are good options, and certain types of herbal tea might be particularly helpful. A study published in April 2003 in the "Journal of Alternative and Complementary Medicine" evaluated the effectiveness of Throat Coat tea for sore throat pain relief. Throat Coat is a proprietary herbal tea blend that contains slippery elm, wild cherry and cinnamon bark, licorice and marshmallow root, fennel fruit and sweet orange peel. The researchers found drinking the tea provided significant pain relief that lasted for up to 30 minutes. Licorice and marshmallow root and slippery elm bark are demulcents, meaning they temporarily coat the throat with a thin protective film. This might account for the throat-soothing effects of teas produced from these herbs.
Medicinal Drinks
Several over-the-counter medicinal drink mixes are available, such as Alka-Seltzer Plus Cold and TheraFlu Flu and Sore Throat. These drink mixes contain various combinations of medicines, including pain relievers, decongestants and antihistamines. Medicinal drink mixes come in individual packets that contain powder to be dissolved in a cup of hot water. These products are generally intended for people with an array of cold or flu symptoms, which might include a sore throat. If you opt to use one of these products, be sure to use only as directed and read the warnings. Check with your doctor if you're unsure whether an over-the-counter medicinal drink is safe for you.
Warnings and Precautions
Most sore throats do not represent a serious health concern and go away relatively quickly. However, a sore throat sometimes signals a problem that requires medical evaluation and treatment. See your healthcare provider as soon as possible if your sore throat is accompanied by a fever, nausea or vomiting, a headache or body aches, or a rash. Even if you have no other symptoms, see your doctor if your sore throat fails to improve within 3 to 4 days or worsens. Seek immediate medical care if you experience a sore throat accompanied by any warning signs or symptoms, including: -- fever higher than 103 F -- difficulty breathing or swallowing -- sudden voice change -- high-pitched sound with breathing -- extremely drowsiness or confusion -- stiff neck -- fainting or a seizure
Reviewed and revised by: Tina M. St. John, M.D.