Ever wonder how your favorite celebrities build those rock-solid bodies? Meghan Markle's trainer of three years, Craig McNamee, reveals exactly how this royal maintains her fabulous physique.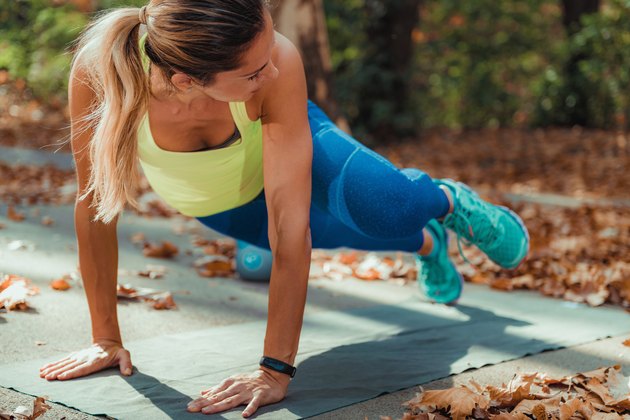 It's no secret that Mrs. Prince Harry is a total fitness junkie, getting her sweat on with workouts ranging from yoga and running to Pilates and other on-trend fitness classes (read all about her favorite workouts here). The former "Suits" star spent three years working out with the Toronto-based trainer, who recently spilled all her fitness secrets to Women's Health.
According to McNamee, the 38-year-old actress is truly devoted to healthy living and doesn't consider it a drag. "Meghan's fitness definitely takes priority; she's very focused on her health," he said. "When she gets to the gym, there's no real complaining. She gets down to business right away and really enjoys it."
While she was "already in fantastic shape" when the two started working out together due to her rigorous running and yoga routine, she "took it to the next level" with McNamee. This involved adding lots of circuit-based strength training to her already-impressive 45-minute workout regimen that she did three to four days a week, all which took place "early in the day to make it a priority."
He used a high-rep (20 to 25), low-weight approach, instead of having her do any heavy lifting. One of the benefits of doing high reps with low weight is that it improves the density of your capillaries, the blood vessels that supply your muscles with blood.
This increased circulation lends more nutrients to the working muscles. And as repetitions increase, fat utilization does as well, which helps your body shed fat and also improves muscle tone. Judging from Markle's strong, lean figure, McNamee's method was very effective.
"Generally speaking, we had a full-body approach," says McNamee. "And since Meghan was onscreen [filming "Suits"], we really focused on posture. In order to execute this, he always included posterior-chain exercises (think glutes, back and hamstrings) as well as lots of core (abs, back, obliques and pelvic floor.)
For a step-by-step 30-minute circuit-training workout similar to Markle's, courtesy of her trainer, click here.
Now that Markle is living the royal life across the pond, their training sessions have come to a halt. But, McNamee claims she is still working out hard. "Meghan is dedicated to her health. It's a big aspect of her life. So for her, now it's about keeping up with the workouts we did together and making them count," he added.
Try It Yourself
Want to get in shape yourself? Try high-intensity interval training, or HIIT. This type of training alternates short bursts of vigorous exercise — 30 seconds to three minutes long — with brief rest periods. The recovery time should be as long or longer than the time spent exercising at high intensity.
Harvard Health Publishing points out that you should always perform at least a five-minute warm-up before and a five-minute cool down after a HIIT workout. For example, if you plan to run sprints, warm up and cool down with a five-minute walk/jog.
A sample treadmill HIIT workout, available at ExRx.net, involves sprinting (as fast as possible) for five to 10 seconds and then walking for four minutes. Repeat this cycle several times.