Whether she's fighting to save the planet, speaking out about social injustice or starring in a huge box-office hit, Shailene Woodley is a force to be reckoned with.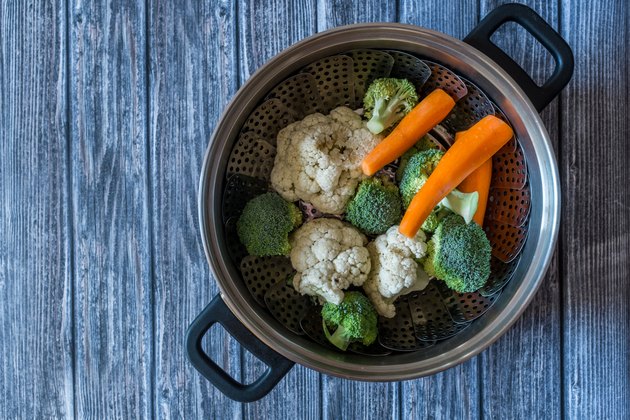 In her movie "Adrift," which hit theaters June 1, 2018, the actress starred alongside Sam Claflin while playing the part of Tami Oldham, a real-life woman who was lost at sea with her husband for a total of 41 days. And because the film required a great deal of physical strength in order to survive the exceedingly harsh conditions of the Pacific Ocean, diet and exercise played a critical part in her preparation for the role.
LIVESTRONG.COM caught up with Woodley and talked everything from her rigorous workouts and mental health to how she practices self-care. And, fortunately for us, she was game to share it all!
Getting Fit for "Adrift"
Seeing as how her character gets lost at sea for well over a month, Woodley needed to work on her overall strength in order to play the part convincingly well. "There was a lot of physical activity in the movie," she reveals of the project. "Before we commenced production, I did training with a local Fijian trainer who was great. We did a lot of functional training, so it wasn't so much weights or weight machines as much as it was functional fitness and using the elements to build particular strength."
For those who may need a refresher, functional training focuses on improving one's performance of daily activities. Whether it's squats, push-ups or plank exercises, the fitness approach can help with strengthening your back and abdominal muscles and even helps with balance and overall flexibility.
And while functional fitness was a way for Woodley to gain strength at the beginning of her training, swimming became a daily workout for the actress. "I swam a lot. I swam at least an hour every single day to build the shoulder strength that was required for this character because, as sailors, you have to be really strong," she says. "Sailing looks very romantic and it looks very easy because good sailors make it look easy, but it's actually quite difficult and requires a lot of upper-body strength, which I didn't have. So our training was mostly focused on upper-body building."
Extreme Dieting for the Role
As one would imagine, being lost at sea with limited resources for food would result in a dramatic decrease in weight. And, sure enough, Woodley had to adjust her diet in order to show Tami's physical changes while filming. "I had to lose quite a bit of weight to portray this woman's journey being stuck at sea for 41 days, and Sam [Claflin] had to lose quite a bit of weight as well," Woodley says. "He had no dinner for about two or three months, I had no dinner for one month and had a glass of wine before bed to kind of quiet down my hungry stomach and crash. And then for about two weeks towards the end of filming, I was eating one can of salmon, two egg yolks and some steamed vegetables, and that was it. And that was gnarly."
To ensure that her diet wasn't a danger to her body, Woodley consumed foods that were rich in nutrients as well as a good amount of protein. "My body was getting all the nutrients it needed through the salmon and the eggs, but my stomach was not happy about the lack of carbohydrates to crunch on and to build energy from, so that was definitely a lesson in resiliency and not something I would ever do recreationally."
Balance Is Key
While her diet for the role of Tami was incredibly restrictive, Woodley reveals that she doesn't obsess when it comes to eating in her personal life. "My diet right now is honestly all about what makes me the happiest," she reveals. "I think it's important to not stress about what you're putting into your body as much as it is to be knowledgable and be educated about where you're food is sourced from and make educated decisions. I do buy sustainably grown foods, but you know what? Every now and then I want a peanut butter cup."
The star, who has spoken out about her love of exotic foods like clay and bone broth in the past, is always on the lookout for new things to try. "I always feel like my Rolodex of newer, exotic foods is expanding," she says. "When I was in Fiji filming this movie, there was this plant called taro — it grows in lots of tropical landscapes in Hawaii and all over the world, and it's really good for you. You can use the taro root and sort of cook it like a potato, or you can use the taro leaves and make creamed spinach dishes or swap it out for collard greens or kale in any dish, so that was my go-to nutrient booster in Fiji."
The Importance of Self-Care
Whether you've seen her on the big screen in theaters or on social media fighting to save the planet, it seems that Woodley is always working on something. And while her busy schedule fills up most of her days, the actress says it's important to take time for yourself. "I'm a huge cheerleader for self-care," she reveals. "I think all day long we can preach about how to save the planet, or we can talk about what's good for us, what's not good for our bodies, our mental health and our physical health. But if we're not being kind to ourselves on the inside, if our inner dialogue is consistently using words that are degrading or unhealthy for ourselves, then we really can't show up for anyone else or anything else on the planet."
Woodley says that no matter what self-care looks like for you, it is crucial that everyone takes time for themselves. "For some people self-care looks like taking a bath every single day. For some people, self-care looks like yoga. And for some people self-care looks like driving down the freeway really fast while blasting loud music. Regardless of what it is — and I definitely go through phases where all of those things have been my mode of self-care — whatever it is, I think it's important that we not only practice it ourselves, but that we remind those around us to take time for quietness and for solitude within whatever that looks like for ourselves."
<p class="article-related-links"> Get more healthy living news and tips: <br>
<a href="https://www.livestrong.com/slideshow/13711617-get-a-body-like-julianne-houghs-with-these-tips-and-tricks/">Get a Body Like Julianne Hough's With These Tips and Tricks</a>
<a href="https://www.livestrong.com/slideshow/13712365-kourtney-kardashian-halle-berry-and-9-other-celebs-who-follow-keto-style-diets/">Kourtney Kardashian, Halle Berry and 9 Other Celebs Who Follow Keto-Style Diets</a>
<a href="https://www.livestrong.com/slideshow/13711721-tim-mcgraw-and-faith-hill-plus-8-other-country-couples-married-over-10-years/">Tim McGraw and Faith Hill, Plus 8 Other Country Couples Married Over 10 Years</a>
</p>
What Do YOU Think?
Could you survive being lost at sea for 41 days? Do you practice self-care? If so, what do you do? Let us know in the comments section below!