Christmas is a time to eat, drink and be merry, but sometimes those holiday parties can leave you feeling fatigued, bloated or both. Luckily, you don't need to ditch your healthy habits to enjoy the festivities with family and friends. Simply give this year's Christmas menu a low-carb twist with the keto diet, so you can enjoy the holiday season without too much sugar and processed carbs.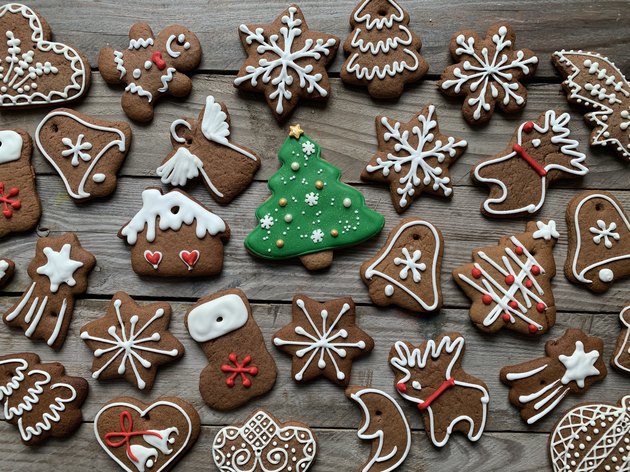 "A ketogenic diet consists of high-fat, medium-protein and low-carb foods," says Kelly Boyer, founder and CEO of Paleta, a healthy food delivery service in Los Angeles. "While you'll want to restrict a few items, most of the classic dishes are part and parcel of a keto diet."
Here, Boyer shares her favorite tips and tricks for revamping your Christmas menu to make it keto-friendly without depriving yourself of your childhood favorites. And, yes, you can still have sugar cookies, eggnog and more!
Low-carb cocktails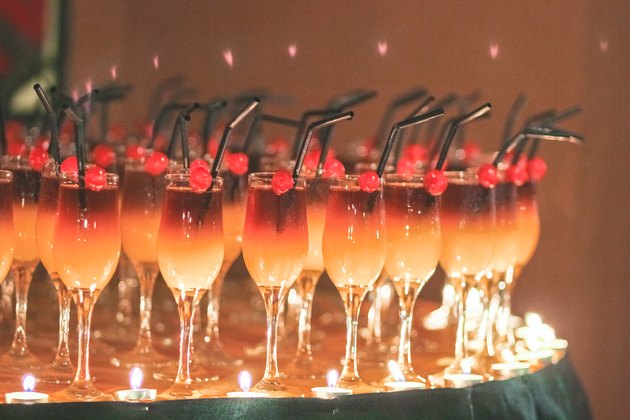 Just because you're on a diet doesn't mean you can't have alcohol in moderation. As long as you skip sugary mixed drinks, you can still enjoy a few cocktails. "Pop the cork on the the driest versions of champagne, cava, prosecco, or sparkling wine," says Boyer. "Maybe a Martini? Sophistication will never cease with this shaken, not stirred, drink made with vodka or gin. Garnish with a lemon twist or, even better, try a blue cheese stuffed olive."
Amy Shapiro, a registered dietician and founder of RealFoodNutritionNYC, favors liquor over mixed drinks. "There's less sugar and carbs and more bang for your buck," she says. "I also like the olive, which has heart-healthy fat over sugary mixers and sweet fruits."
Guilt-free eggnog
This Christmas classic may seem like a diet no-no, but swap out the sugar for low-calorie sweetener and it quickly becomes a keto favorite. "Traditional recipes include egg yolks, heavy cream, nutmeg, vanilla and cinnamon sticks," says Boyer.
"Because most of these ingredients are already keto-friendly, you'll just want to replace the sugar with SWERVE or xylitol. I also suggest splitting the heavy cream with organic almond or coconut milk to reduce calories without impacting the creamy texture." These quick fixes not only reduce calories, but also help curb your daily carb intake too.
"Cutting out the cream and milk will cut the carbs," says Shapiro. "Cutting the sugar obviously helps with that too."
Sugar-free starters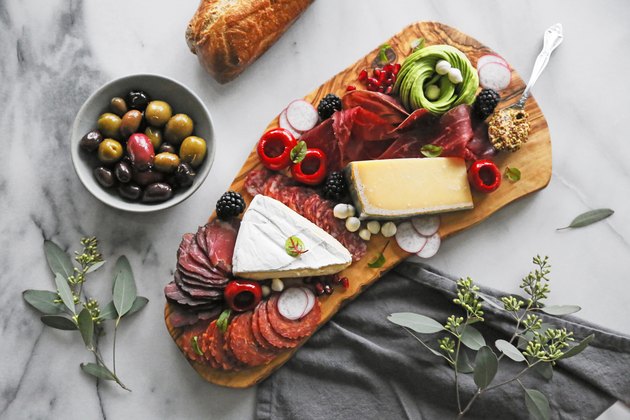 Swap out standard fare like crostini and dip for sugar-free, low-carb alternatives. A few go-to options include sheets of nori or dehydrated seed crackers to top with your favorite aged cheese, cured meat or homemade dip. "You don't have to say no to fat-based dips because that creamy spinach and artichoke dip is a-okay," says Boyer. "Just keep the artichoke portions to a minimum and go heavy on the spinach."
Shapiro couldn't agree more, especially since seed crackers pack a nutritious punch. "They're loaded with minerals and void of carbs," she says. "These will nourish you and fill you with nutrients not sugar." She also suggests adding mixed nuts to your menu since they are "full of heart-healthy fats, vitamin B, manganese, copper and more."
Low-sugar glazed ham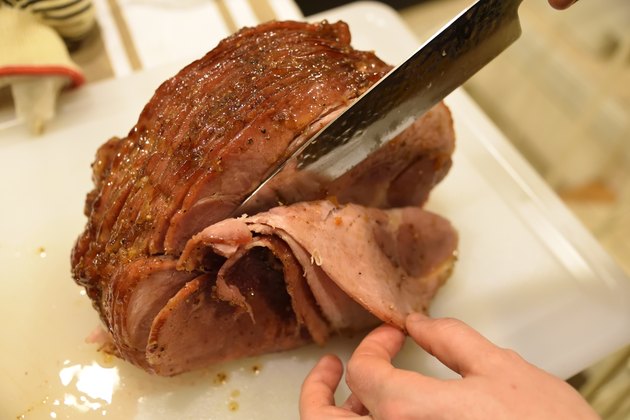 Glazed ham may be a Christmas classic, but it's also loaded with sugar. That said, it is possible to make a keto-friendly version if you don't mind getting a little creative with your ingredients.
"My family would fall off their dining chairs if they didn't see a glossy, golden ham on my holiday tabletop," says Boyer. "Little do they know that the honey, brown sugar and maple syrup have been replaced by a keto glaze made of dijon mustard, mayo, granulated garlic, champagne vinegar, bourbon and ground cloves."
"No sugar here, just all of the flavor!" says Shapiro, who gives Boyer's ingredient swaps two thumbs, adding that ham is a great source of protein once you take away the traditional glaze, which is filled with empty calories.
Cauliflower stuffing
Think bread cubes are your only option to make a savory side dish? Guess again. You can whip up a satisfying stuffing without any gluten, yeast or flour simply by replacing bread with chopped cauliflower. "Follow your favorite recipe but replace the bread cubes with raw, chopped cauliflower," says Boyer. "The cauliflower will keep its crunch while still absorbing the flavors of the mixture."
Shapiro seconds this option. "You are gaining lots of fiber and vitamins here without any of the starch and fatty breakdown," she says. "It's a great way to enjoy all the flavor without the calorie hit."
Low-carb mashed potatoes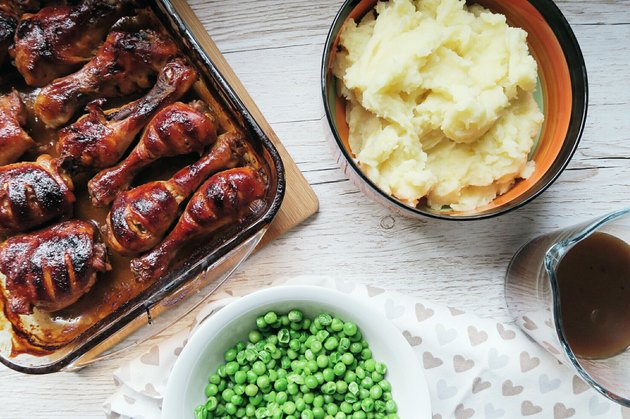 Replace white potatoes with cauliflower in this classic Christmas side dish. Not only will you cut calories, but you'll cut carbs and sugar too. "Simmer cauliflower florets in chicken broth until tender," says Boyer. "Then toss into your food processer, add butter or ghee, sour cream or cream cheese and lemon zest and process until smooth. I like to garnish mine with a little chopped parsley, but you can also provide grated cheese, bacon bits and chopped ham for garnish."
Says Shapiro, "This is a great filler option! It's very low in calories and high in fiber."
Guilt-free gravy
Yes, it actually is possible to make keto-approved gravy by swapping out a few key ingredients. "Heat pan drippings with chicken or beef stock," says Boyer. "Add heavy cream into a saucepan until it reaches a low boil. Reduce heat and simmer uncovered for about an hour then reduce by half.
Blend with a handheld immersion blender, return the gravy to the saucepan and bring back to simmer over medium heat. Add a dash of Worcestershire sauce, fresh thyme leaves and a pinch of xanthan gum. Consider sautéing mushrooms to add to your gravy for an earthy flavor profile. Whisk until desired consistency and serve!"
Shapiro agrees this is a great way to give the classic condiment a healthy twist. "Again, there's no carb hit, just fat and flavor," she says "It's very keto-friendly."
Keto-friendly Christmas cookies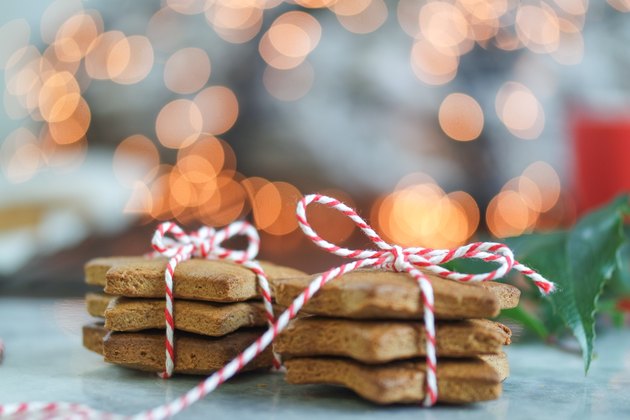 If you think being on a diet means skipping dessert, you'll be pleasantly surprised by these low-sugar Christmas cookies. "Holidays just aren't as happy without cookies," says Boyer. "Luckily, just about every cookie is easily adjusted by replacing white flour with almond or coconut flour. Eggs and butter are welcome ingredients.
Chopped nuts also add texture to cookies and provide a high-protein, high-fat benefit. Sweeteners can be replaced with SWERVE, no-sugar applesauce or date paste. You can even roll out the dough and cut it into shapes then decorate with royal icing made with SWERVE powdered sugar."
Just remember not to overindulge since keto cookies are, well, still cookies. "It is important to remember that treats are always treats," says Shapiro. " But these do provide a lot more heart healthy fat and less sugar."
Merry keto Christmas, everyone!