Celebrate Christmas in style without getting sidetracked from your healthy eating goals — yes, it is possible! When it comes to the holidays, you can keep your macros in happy proportions while still enjoying delicious food. There are a ton of richly colored vegetables (the ones we all need to be eating more of throughout the year) and healthy proteins on the table (like lamb and turkey) during the holidays. Even Christmas dessert can have health perks when you opt for a dark chocolate treat.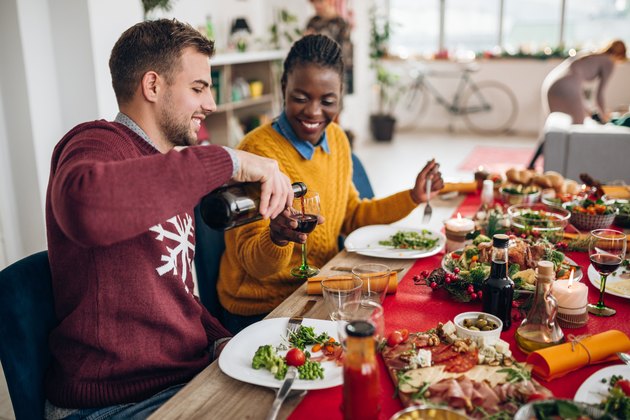 Here are seven recipes that will add cheer to your table and are anything but boring. Try them and we promise not only will your Christmas be spectacular, but your New Year's self will thank you!
1. Holiday Gem Sweet Potato Toasts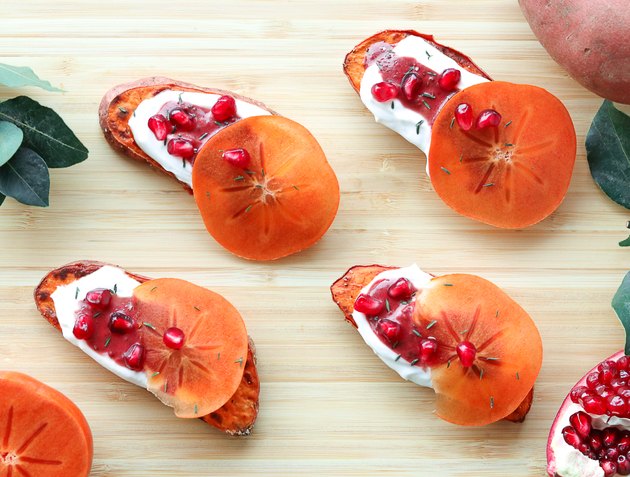 This holiday appetizer looks fancier than it is, considering all it really takes to make is simple cooking methods and straightforward assembly. Whether you use Red Garnet sweet potatoes or Stokes purple sweet potatoes, you'll get a gorgeous antioxidant-and fiber-rich start to your holiday meal. These "toasts" are topped with Greek yogurt for a refreshingly tart contrast to the sweet potato, and a good dose of lean protein.
The toppings, including persimmon and pomegranate arils, are seasonal in the U.S. If you're not familiar with persimmon, know that most stores carry the Fuyu variety, which is sweet and floral and looks like a small beefsteak tomato. It's more common than the longer Hachiya variety, which are astringent until very ripe, and then they are like butter. Both are excellent sources of immunity-boosting vitamins A and C, which comes in handy during flu season.
2. Dark Chocolate Goji Berry Bark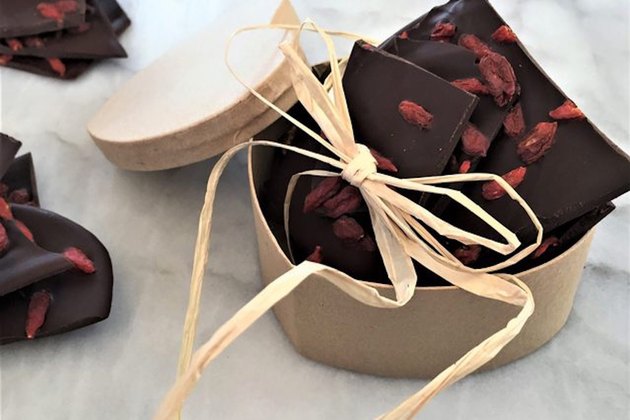 It takes only four ingredients to make this elegant holiday sweet: dark chocolate, goji berries, turmeric and cinnamon. Go ahead, make a double batch. It makes a great gift, but we won't tell if you keep most of it (or all of it) for yourself.
Chocolate is a delicate ingredient that burns easily, which is why the preferred method for melting is by using a double-boiler — but how many people actually have a double-boiler? The good news is that you really don't need one. Simply use a heatproof bowl and set it on top of a pot of simmering water, making sure the edges of the bowl cover the pot when set on top. Place the chocolate into the bowl and let it melt. All you have to do to ensure success is to make sure the water doesn't touch the bottom of the bowl (this can result in burnt chocolate).
3. Slow Roasted Beets with Basil Pistachio Pesto
4. Lime and Mint Shredded Instant Pot Lamb
5. Roasted Butternut Squash "Pasta" With Goat Cheese and Fried Sage
6. No Sugar, Low-Fat Hot Chocolate
7. Pistachio-Crusted Rosemary & Fig Goat Cheese Boule