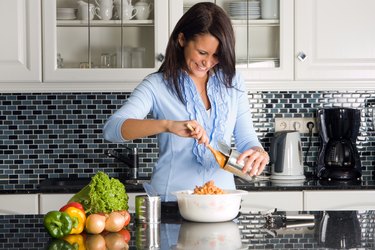 Reaching for canned goods can get a meal on the table quickly and easily, adding vitamins, minerals and boosts of flavor to your day. And, even better, canned goods can be an affordable solution to help keep your food budget in check.
We've all seen popular canned favorites (think: beans, corn, tomatoes and tuna) flying off the shelves. But what about some of the more obscure or unusual canned foods? You know, those seemingly odd veggies that seem more difficult to integrate into a meal.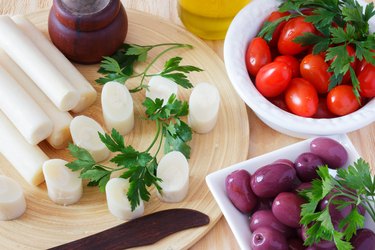 Have you tried hearts of palm? The taste can be described as most similar to artichoke hearts or asparagus.
Hearts of palm are nutrient-dense, providing a wide range of vitamins and minerals and a low calorie count. The veggie is rich in fiber, iron, copper, manganese and zinc, among others.
Hearts of palm can generally be found in two varieties: whole or salad-cut. Here are some quick serving ideas to get you started — just be sure to rinse and drain prior to using!
Add sliced or chopped hearts of palm to vegetable salads, grain salads or mayo or yogurt-based salads like egg, potato or chicken salad.
Steam or saute hearts of palm and serve with a squeeze of lemon, salt, pepper and some chopped herbs.
Add to a food processer with garlic, olive oil, salt, pepper and lemon juice and puree into a dip to serve with pita bread and crudité.
Dice small and add to salmon or crab cake mixture before cooking.
Add to stir fries, casseroles or braised dishes.
Bread sliced hearts of palm with breadcrumbs and "fry" them in an air fryer or bake in the oven on 400 degrees Fahrenheit until golden brown.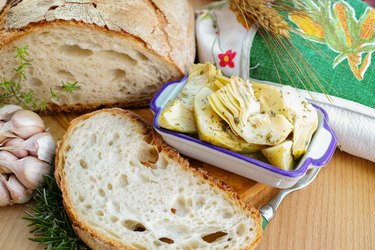 Artichokes consist of overlapping, leaflike scales that surround an inedible "choke" and a prized "heart."
These artichoke hearts are considered to be the most delectable part of the artichoke and is what you'll find in the canned version, ready for you to enjoy immediately. Artichoke hearts are an excellent source of fiber and magnesium and a very good source of vitamin C and folic acid, among others.
As with other canned vegetables, it is recommended to rinse and drain canned artichokes prior to eating. Here are some serving ideas:
Add to vegetable and grain salads.
Quarter and use as a topping for pizza or as a filling for omelets or frittatas.
Add to soup or stew.
Marinate in vinaigrette and serve as a side dish.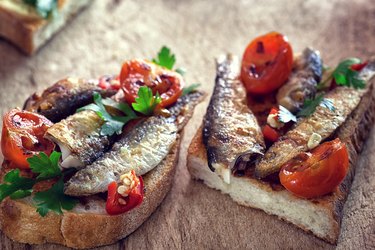 Sardines are tiny, inexpensive and pack more omega-3 fatty acids per three-ounce serving than just about any other food. That's right, more than salmon and tuna!
Sardines are also one of the very few foods that are naturally high in vitamin D. This delicious brain food can be found in a range of canned varieties, including plain, smoked, packed in water or oil, skinless and boneless or with lemon, tomato or mustard.
Try these scrumptious ways to use a can of sardines:
Add to yogurt and mayonnaise with some chopped celery for a sardine salad.
Mix into pasta with some sautéed vegetables and a squeeze of lemon.
Add to vegetable or grain salad.
Mash up with cream cheese and use as a bagel topping.
Add to spinach artichoke dip.
Use as a pizza or sandwich topping.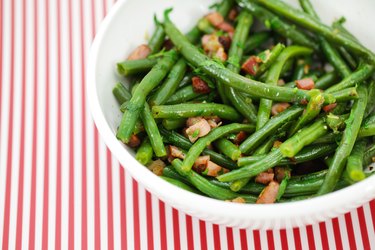 Canned string beans may also be labeled as green beans. They are an excellent source of dietary fiber and complex carbohydrates and a good source of folic acid, phosphorous, magnesium and potassium.
Canned string beans should be drained and rinsed prior to using. Because they are already cooked, they often work best when added to cold salads or dishes since overcooking may create a mushy texture.
They can also be added to pasta sauces or soups that are pureed for an extra boost of nutrients and flavor.
Sure, you may be familiar with carrots and beets, but have you tried taro or rutabagas — or even canned potatoes?
There are a variety of delicious, healthy and interesting root vegetables that can be found in the canned aisle that are worth trying out. These root vegetables provide a variety of nutrients, including fiber, vitamin C, manganese and copper.
Here are some ideas to add canned root vegetables to your week:
Add to vegetable or grain salads.
Toss them with olive oil, salt and pepper and broil for a few minutes to add a touch of golden brown and serve them as a side dish.
Heat up in a saucepan and mash them with cooked potatoes and vegetable stock or some milk and butter.
Add to soup, stew or casseroles.
Lightly saute and serve as a side dish.