Sleeping pills help individuals with insomnia or disruptions in sleep patterns. Disruptions in sleep pattern results from stress, illness, environment or other health conditions. When an individual cannot fall asleep because of insomnia or other factors, a doctor may prescribe sleeping pills to induce sleep. These pills come in various forms and a doctor will prescribe the pill based on individual need.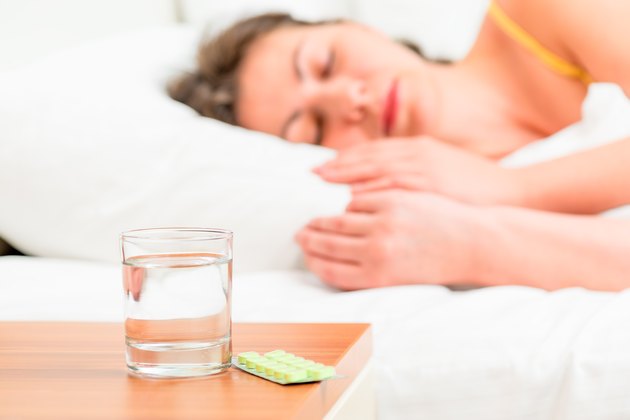 Ambien
Ambien is a non-benzodiazepine hypnotic sleeping pill available by prescription only. It works by changing unbalanced chemicals in the brain that cause sleeplessness, according to Drugs.com. The pill is a trademark of the drug Zolpidem and provides short-term treatment for insomnia. Ambien comes in two formulations that include Ambien and Ambien CR, for controlled release. According to Drugs.com, the appearance of the sleeping pill includes 5mg film-coated pink capsule shaped tablets, imprinted with AMB 5 on the front and 5401 on the back; 10mg film-coated white capsule shaped tablets, imprinted with AMB 10 on the front and 5421 on the back; and Ambien controlled release 6.25mg pink round tablets.
Lunesta
Lunesta is a non-benzodiazepine hypnotic prescription sleeping pill similar to Ambien. In clinical studies, Lunesta proved to assist individuals in staying asleep for up to seven hours, according to Lunesta. The sleeping pill belongs to a class of drugs known as cyclopyrrolones and should only be taken when an individual is ready for sleep, according to Drugs.com. Lunesta has side effects that include headache, dry mouth, mild skin rash, nausea and problems with concentration. Individuals should take the medication as prescribed by a doctor and contact a healthcare professional about drug interactions and possible factors of addiction. According to drugs.com, the appearance of these pills includes 1mg film-coated light blue round tablets, imprinted with S190; 2mg film-coated white round tablets, imprinted with S191, and 3mg dark blue film-coated round tablets.
Sonata
Sonata is a hypnotic prescription sleeping pill. The sleeping pill helps to decrease the amount of time it takes to get to sleep with rapid onset and short duration, explains Drugs.com. The drug has potential for allergic reaction and side effects include numbness, daytime drowsiness, anxiety, joint pain, and increased menstrual pain. Speaking to a doctor will assist individuals in finding any complications or interactions with taking the pill and any potential for dependence. According to Drugs.com the appearance of the pills include 5mg green and white capsule shaped tablets imprinted with 5mg and 10mg green capsule shaped tablets, imprinted with 10mg.