In the early stages, meningitis appears to have similar symptoms to that of the flu, according to KidsHealth. Meningitis is an infection in the brain and spinal chord caused by a bacteria or virus. Bacterial meningitis is a severe condition with symptoms that are aggressive, comes on suddenly and could be life-threatening. Bacterial meningitis is not commonly confused with flu symptoms. On the other hand, viral meningitis can have similar symptoms to the flu such as fever, body chills, nausea and vomiting; headache and loss of appetite.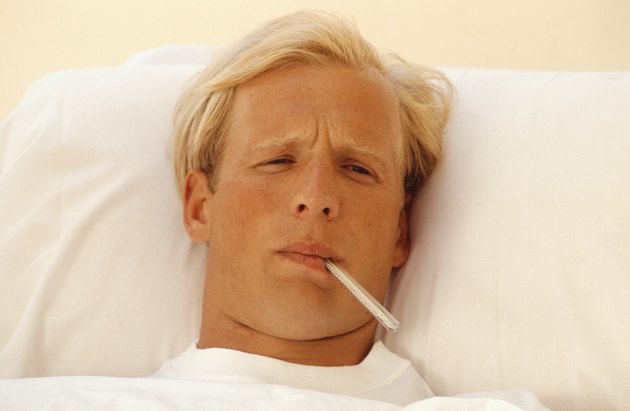 Fever and Body Chills
A fever is one of the first signs of the flu and of meningitis, according to MayoClinic.com. A fever is the body's defense against a viral infection. The body attempts to kill the virus by creating an unwelcoming environment. An elevated body temperature causes chills and weakness, requiring more sleep. A fever over 100.5 degrees needs to be evaluated by a doctor for an appropriate diagnosis.
Nausea and Vomiting
Nausea is a result of a neurological effect that makes a person feel queasy and unsettled in the stomach. Nausea and vomiting are common symptoms of the flu, but are also related to meningitis. In severe cases of meningitis, the vomiting can become violent and continuous, which could lead to dehydration. Although vomiting related to nausea appears to be a result of a stomach issue, it is an effect on the brain.
Headache
Headaches are common for the flu and meningitis and are a result of the viral infection causing the flu or brain infection. Meningitis causes swelling around the brain and spinal chord, which results in pressure in the head. The difference between a headaches from the flu and that of meningitis is the severity of the pain, according to FamilyDoctor.org. Headaches from the flu are accompanied with nausea, vomiting, fever and sometimes diarrhea while headaches from meningitis are accompanied by severe head pain and a stiff neck. If someone experiences a stiff neck with severe head pain, she should seek immediate medical attention.
Loss of Appetite
Being sick with the flu or with meningitis will result in loss of appetite because of nausea and vomiting. The loss of appetite can be coupled with a decrease in desire to drink, which can lead to dehydration. Drink soups, hot herbal tea and broth to ingest liquids and calories.