Nighttime congestion is a common childhood problem, caused by the swelling of the tissues and blood vessels on the inside of the nose. According to the National Library of Medicine, most cases of congestion result from viral or bacterial infection and resolve on their own within a week. If blurred vision, facial swelling, severe throat pain or lengthy coughing episodes accompany your child's congestion or it lasts longer than two weeks, consult your child's doctor.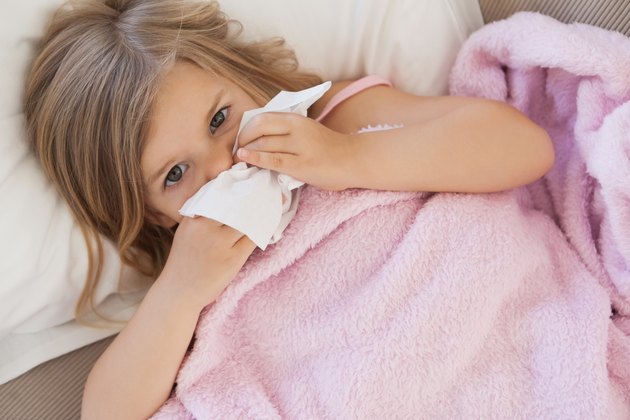 Common Cold
According to KidsHealth, the common cold is often a culprit when it comes to kids' congestion, causing symptoms such as runny or stuffy nose, sneezing, cough, sore throat and nasal discharge. To treat the congestion of a cold, apply over-the-counter saline nose drops or use a cool-mist humidifier to moisten dry, indoor air and loosen congestion. Parents can also rely on that old wives' tale remedy: chicken soup. Chicken soup contains an amino acid that helps thin congestion-causing mucus.
Allergic Rhinitis
Rhinitis is a common cause of nocturnal congestion in children. Indoor and seasonal outdoor allergens cause rhinitis symptoms, such as a stuffy and itchy nose, sneezing, itchy eyes, sore throat upon waking and nighttime cough. If your child's congestion is caused by allergic rhinitis, your pediatrician may recommend anti-inflammatory medicines, nasal steroid sprays, antihistamines or decongestants to relieve symptoms and congestion.
Sinusitis
Sinus infection, or sinusitis, may also interfere with a child's sleep by causing congestion. Other symptoms of sinusitis include having a cold for 10 days to a week, low fever, thick yellow-green discharge from the nose, headache and fatigue. Sinusitis can also cause postnasal drip, when fluid from the nasal passage flows into the throat, causing congestion, sore throat and coughing. Children with congestion caused by sinusitis usually find their symptoms go away after treatment with antibiotics. In cases where sinus infection persists for several months, a doctor may recommend sinus surgery.
Physical Blockage
Nighttime congestion could result from a physical blockage in the nasal cavities, according to the American Rhinologic Society. Children may insert items into their nasal cavity that make nighttime breathing difficult. A deviated nasal septum or large turbinate, the nasal bone that divides the nasal airway into separate passages, can also interfere with breathing and cause congestion. For people with chronic nasal congestion problems due to physical blockage, doctors often recommend surgery to make nighttime breathing easier.
Food Allergy
In some children, food allergy or intolerance triggers inflammation and mucous production, leading to nighttime sneezing, sniffling and congestion. According to the National Institute of Allergy and Infectious Diseases, the most common food allergies that cause problems in children are eggs, milk, peanuts and tree nuts. Treating food allergies usually involves complete avoidance of the allergen, but parents shouldn't eliminate food from a child's diet unless doing so under the supervision of a pediatrician.