Smoothies can be healthy alternatives to regular meals when you are in a hurry or need a portable meal. For something a little different and to boost your veggie consumption, make vegetable-based smoothies, which are loaded with essential nutrients. If you're looking to lose weight, you're in luck -- vegetable smoothies fit into a nutritious diet plan.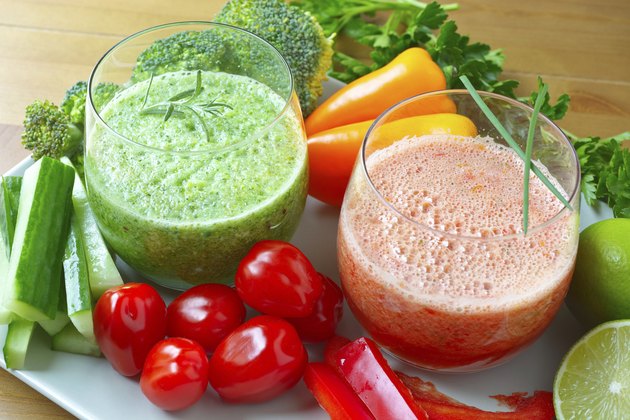 Use Smoothies as Meal Replacements
Losing weight requires you to consume fewer calories than you expend. Drink vegetable smoothies instead of, not in addition to, the other foods in your regular diet. If you add vegetable smoothies to your meal plan without taking out another food to compensate, you will add to your total calorie consumption and may gain weight. You might have a vegetable smoothie instead of your regular breakfast or lunch, or a smoothie can replace a higher-calorie snack. Make your meal more balanced by adding a good source of protein, such as tofu or fat-free yogurt, to your smoothie.
Vegetables to Include
In your smoothie, you can include nearly any vegetable that is edible raw. Eat fruits and vegetables of a variety of different colors to get a range of vitamins and minerals. Green vegetables that nearly any blender or food processor can break down include kale and spinach. Also try red tomatoes, orange carrots and chives. Vegetables provide dietary fiber, potassium and vitamins A and C. The University of Michigan Health System notes that people who eat many fruits and vegetables tend to have better weight control than people who don't.
Add Other Healthy Ingredients
For even more nutrition, flavor and texture, you can add fruits like blueberries, peaches, grapes and cantaloupe to your vegetable smoothie. Ground flaxseed provides heart-healthy fats, such as monounsaturated fatty acids and omega-3 fatty acids. Peanut butter can thicken your smoothie while adding protein and healthy fats, and fat-free yogurt supplies protein and calcium while making your smoothie creamier.
Avoid High-Calorie Pitfalls
Using ice cream, frozen yogurt or sugar-sweetened, full-fat yogurt instead of plain yogurt adds unnecessary calories to your smoothie. Avoid adding oversize portions of high-calorie ingredients, such as peanut butter or avocado, even when they are healthy. Vegetable smoothies can help you get the recommended daily servings of vegetables, but eating your vegetables instead of blending them can be more satisfying and conducive to weight loss since calories from solid foods tend to be more filling than calories from liquid foods, according to the 2010 Dietary Guidelines for Americans.