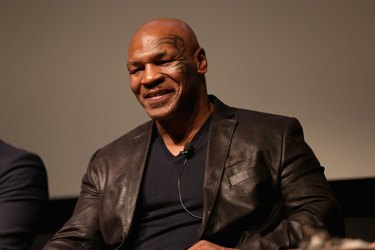 Although he is perhaps better known for his fall from grace than for his performances inside the ring, "Iron" Mike Tyson was one of the most formidable boxing champions in the history of the sport. He combined raw power and athleticism with an unbridled ferocity come fight time, but his techniques and body were refined through countless hours spent training.
Strength and Conditioning
Boxing skills are essential to succeed at the highest levels of the sport, but they won't mean anything if you can't go the distance when needed. Tyson's training routine was split between endurance and explosive strength work. After jogging more than 3 miles in the morning and sparring for 12 rounds in the afternoon, Tyson would perform 2000 sit-ups, 500 dips, 500 press-ups, 500 shrugs and neck exercises.
Skill Training
Cus D'Amato was Mike Tyson's first boxing coach. D'Amato met Tyson when the future champion was a pudgy 13-year-old. D'Amato saw extraordinary talent in Tyson and molded him into a gifted fighter by having him train for 50 to 60 hours per week as a teenager, alternating between bag work and sparring. Tyson became powerful with both hands by honing them on a heavy bag that most young fighters would have avoided.
Sparring
Perhaps the most important component of training for any competitive boxer is sparring. Mike Tyson would spar 10 to 12 rounds at noon, followed by another six rounds at 3 p.m., six days per week. Trainer D'Amato did not allow him to wear headgear during training, since he felt the protective equipment gave fighters a false sense of security.
Diet and Nutrition
In order for Tyson to avoid breaking his body down throughout a training camp, he had to keep up a regimented diet and nutrition program. Tyson's trainer had him on a steady diet filled with carbohydrates for fuel during training and protein for muscle regeneration. Still, even a disciplined champion like Tyson was caught cheating by eating sugary snacks every now and again.