Just because you don't eat meat doesn't mean you can't follow a low-carb diet. In fact, a 2009 study published in the Archives of Internal Medicine found that a low-carb vegetarian diet helped a group of overweight men and women lose weight. The hardest part may be coming up with what to eat, especially at breakfast. Using vegan sources of protein such as tofu, seitan and tempeh, along with low-carb veggies, you can create a number of tasty options.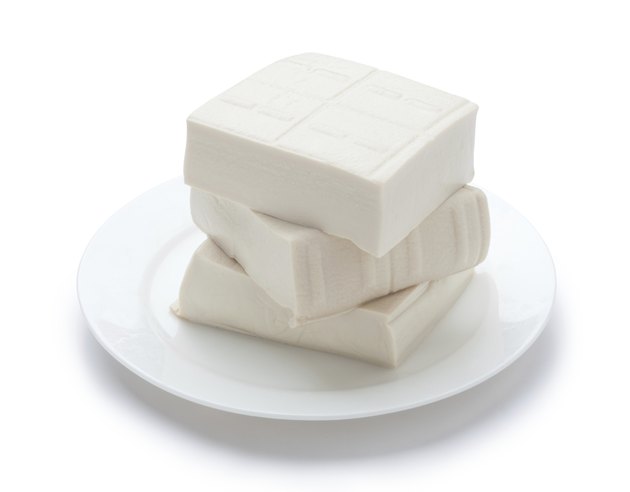 Vegan Eggs
Tofu is a versatile protein that takes on the flavor of whatever you cook it with, and it has only 1 gram of net carbohydrate per 1/2-cup serving. "Net" carbs -- calculated by subtracting grams of fiber from the total carb grams -- are used by many popular low-carb diets for counting carbs.
Turn tofu into a breakfast scramble without affecting the carb count by mixing crumbled firm tofu with turmeric, nutritional yeast, cumin, salt and pepper and cook over medium heat on the stove. While cooking, add a variety of low-carb veggies to create different flavors and textures. Consider 2 tablespoons of chopped red onions and 1/2 cup of chopped red peppers to add 5 grams of net carbs. Or, stir in 1 cup of raw spinach and 1/2 cup of sliced button mushrooms for 1 gram of net carbohydrate.
Low-Carb Smoothies
If time is an issue for you at breakfast, you can make a tasty low-carb smoothie to take with you. Blend 1/2 cup of tofu with 1 cup of unsweetened almond milk, half an avocado, 1 tablespoon of unsweetened cocoa and a packet of carb-free artificial sweetener for a drink with 4 grams of net carbs. Or, 1 cup of almond milk blended with 1/4 cup of ricotta cheese, 1 teaspoon of cinnamon, 1 teaspoon of vanilla extract and ice makes for a yummy cinnamon treat with 3 grams net carbs.
For a less sweet smoothie, blend 1 cup of unsweetened soy milk with 1 cup of raw kale, 1/2 cup of sliced cucumber and 1/4 cup of fresh blueberries for a breakfast meal in a glass with 9 grams of net carbs.
Breakfast With Tempeh
Tempeh also makes a good low-carb breakfast protein with 3 grams of net carbs per 3-ounce serving. Its firm texture and flavor make it a perfect choice for a breakfast sandwich. Cook slices of tempeh in a pan with olive oil and flavor with tamari and apple cider vinegar, then serve wrapped in a lettuce leaf and topped with slices of tomato and avocado. This breakfast meal has 5 grams of carbs. If you have the carbs to spare, serve in a low-carb pita, with 5 grams of net carbs, instead of a lettuce leaf.
A low-carb tempeh hash also makes a tasty vegan breakfast. Dice 1/2 cup of tempeh and saute with 1/2 cup of diced turnips, 1 cup of raw spinach and 2 tablespoons of white onions in olive oil, along with the flavors of tamari, turmeric and cumin, for a breakfast with about 6 grams of net carbs.
Nontraditional Breakfast With Seitan
Seitan has a meaty texture and is usually used in savory dinner stews and stir-fries, which also might make a good alternative to your usual breakfast. Stir-fry 1/3 cup of seitan with 2 cups of fresh green beans, garlic and soy sauce for a breakfast containing 9 grams of net carbs. Or, make a savory stew with seitan, onions, turnips, mushrooms, rosemary, thyme, sage, miso and water cooked in a large pot on the stove until the veggies are soft. Depending on portion size and the amount of veggies vs. seitan, this stew has about 8 grams of net carbs per serving.