Cod liver oil contains nutrients that may be good for both adults and children. Some companies market cod liver oil to parents of youngsters by offering kid-friendly flavors such as fruit punch. If you're considering giving your baby cod liver oil, talk to your pediatrician first. Your child's doctor is in the best position to determine what is safe or beneficial for your baby.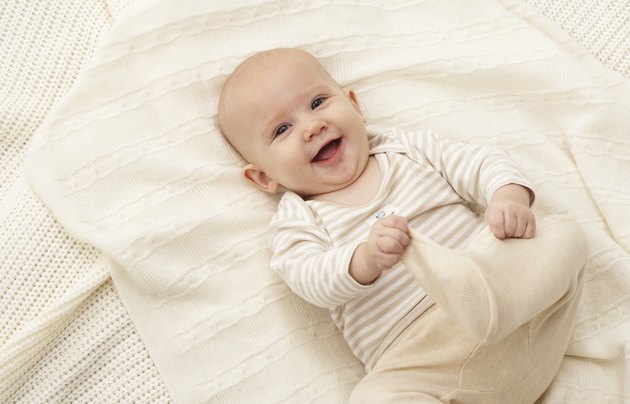 Safety
The American Academy of Pediatrics has not taken a position on the issue of cod liver oil for babies. Dr. Jatinder Bhatia, chair of the AAP Committee on Nutrition, says the Academy has "no data to say one way or the other" whether cod liver oil is safe for infants. He says cod liver oil is routinely used by mothers in Europe and "no adverse effects have been described." Still, he encourages parents to talk to their children's doctors before giving babies any type of supplements.
Benefits
Fish oils, including cod liver oil, are rich in EPA and DHA omega-3 fatty acids and have been used to treat a wide range of conditions, including high triglycerides, heart disease, depression, thinking disorders, dry eyes and diabetes. Bhatia says cod liver oil is high in DHA, which may offer visual and cognitive for benefits for babies. He says some studies have found a positive impact from taking DHA while others showed no real benefit. He adds that for full-term infants, there have been no negatives. Cod liver oil is also a good source of vitamins A and D.
Dosage
The AAP makes no recommendations about how much cod liver oil is safe or beneficial for babies, but Bhatia notes that DHA is used in infant formulas and added to some toddler foods. A minimum amount has not been specified, but a maximum amount has been established for infant formulas. Bhatia says the amount present in formulas is 0.25 to 0.3 percent of the fat. Again, Bhatia stresses you should not give your baby any supplements without a physician's guidance.
Warning
Dr. Bhatia warns that "relying on supplements from the general market does not assure you of their safety." There is a risk of mercury contamination with some fish oil supplements. Cod liver oil is high in vitamin A, and that can pose risks, too. Vitamin A is good for skin, teeth and bones, as well as vision. However, it's a fat-soluble vitamin, which means excess amounts are stored in the body. Too much vitamin A can actually make you sick, and large doses of vitamin A in women can cause birth defects.