If you increase your training volume without sufficient recovery, you will eventually become overtrained. While some symptoms may appear to be directly related to excessive exercise, such as lack of motivation, lingering muscle soreness and overall fatigue, other physiologic symptoms such as insomnia can result due to altered protein, hormone levels and mood states.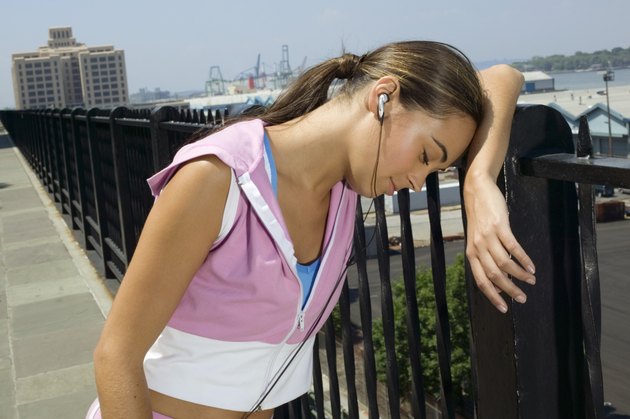 Overtraining Times Two
Athletes in different sports often experience slightly different forms of overtraining, although insomnia can occur with either type. Athletes who overdo high-intensity exercise such as weightlifting will usually develop the sympathetic form of overtraining. This involves overstimulation of the sympathetic nervous system and leads to increased resting heart rate, elevated blood pressure and higher basal metabolic rate. Endurance athletes that overload their training volume typically develop parasympathetic overtraining syndrome, characterized by decreased resting heart rate and early fatigue onset during exercise.
Hormonal Overload
A high-intensity workout places stress on your body, which activates your sympathetic nervous system by increasing levels of certain hormones such as epinephrine, norepinephrine and cortisol. These hormones increase heart rate and blood pressure, stimulate energy breakdown and inhibit immune function. With sufficient recovery, the levels of these hormones will return to resting levels. However, lack of recovery can lead to chronically elevated levels of these hormones, leading to high resting heart rate and blood pressure. This can interfere with the production of hormones and proteins in the brain called neurotransmitters that help you achieve quality sleep.
Douse the Flames
Whether you run, lift weights or take an aerobics class, your bones, muscles and joints sustain microscopic damage, which leads to inflammation. The inflammation increases the level of cytokines and macrophages to the damage site, which help initiate repair of this damage. Overtraining can cause this inflammation to spread throughout your body and become chronic. This activates more immune cells to make even more cytokines. These cytokines can interfere with normal function of neurotransmitters in the brain such as serotonin, which helps regulate sleep and mood. Therefore, insomnia associated with overtraining may be partly due to altered serotonin function.
Mind Your Moods
Overtraining often leads to mood changes, including depression, irritability, anxiousness and reduced motivation. Although the direct cause of these is not completely clear, psychological changes are likely due to a combination of the external stress of trying to achieve a particular athletic goal along with neurotransmitter changes. Insomnia is a symptom of depression and increased anxiety; therefore, the psychological changes associated with overtraining may also contribute to insomnia.
Is This an Emergency?
If you are experiencing serious medical symptoms, seek emergency treatment immediately.