Nearly 177 million babies and children around the world are malnourished and, as a result, face serious complications and even death, according to The Child Welfare League of America. One in ten households in the United States experiences hunger or risks going hungry. Malnutrition is a result of not getting enough nutrients through calories and protein and can be treated with vitamin supplements and a diet rich in calories, nutrients and protein.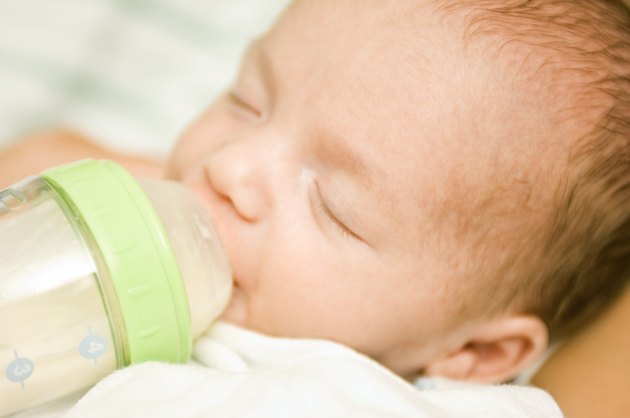 Marasmus
In malnourished babies and children, marasmus may be present, which is a loss of fat and muscle. A child with marasmus will lack fat under the skin and will have thin skin that hangs off her body. Marasmus also causes hair loss and darkened skin tone. A child who is experiencing marasmus may be apathetic, lying without moving or crying for long periods of time.
Kwashiorkor
Kwashiorkor also occurs in some babies who are malnourished. With kwashiorkor, the child may seem healthy due to excess water accumulation in the body and will have a round, full look. Kwashiorkor causes dark patches on the skin, brittle hair, an enlarged liver and a tummy that is extremely swollen. A child with kwashiorkor will also be apathetic and lethargic.
Stunting
Malnourished babies will not grow the way a healthy, nourished baby would. Often, these babies seem normal until they are compared to other babies and growth charts. Once compared to growth charts, it becomes obvious that the child is undernourished. Usually, a child who experiences stunting will also experience symptoms associated with marasmus and kwashiorkor.
Oedema
Oedema, severe water retention in the tissue, is a sign of severe and acute malnutrition and, once present, is an indicator that a child is close to death and needs urgent treatment, according to Mother and Child Nutrition. To diagnose this condition, press gently on the top of each of the child's feet for 3 full seconds and release. If the child has oedema, there should remain an indention where your finger pressed into the foot that lasts for at least a few seconds.
Other Symptoms
Babies who are malnourished will present symptoms such as disinterest in activities around them or their surroundings, lack of eye contact and irritability. A malnourished baby may sleep too much or cry excessively. Some babies lack only certain vitamins and minerals and therefore will display symptoms specific to their vitamin deficiency, such as dizziness, reduced immune function, dry skin, slow reaction times, tooth decay and bleeding gums.
Is This an Emergency?
If you are experiencing serious medical symptoms, seek emergency treatment immediately.