Fever blisters are small, fluid-filled bumps that appear around a person's mouth. They can affect anyone, from adults to infants. Also called cold sores, they are caused by a common virus called Herpes simplex, according to the American Academy of Dermatology. Although unattractive and uncomfortable, fever blisters are not painful to your baby. They should be treated, however, as serious complications can arise in some cases.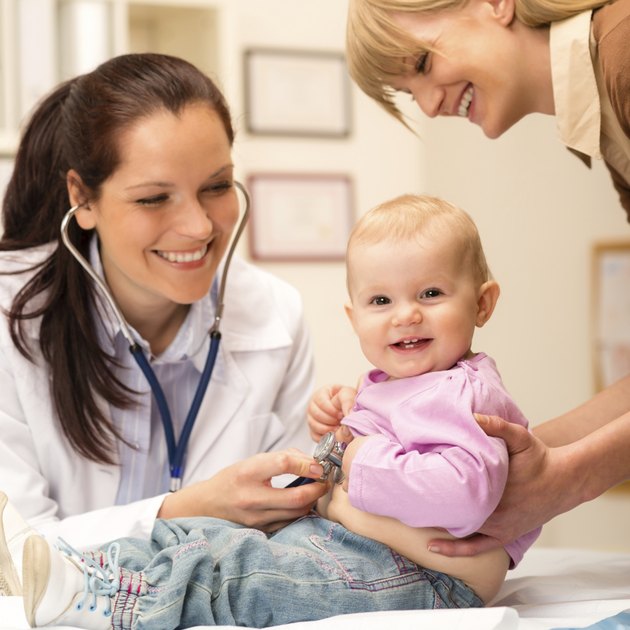 Cause
The appearance of fever blisters means that your child's body is harboring the Herpes simplex virus and the infection occurred previously. The blisters appear when the virus flares up for a second time. Initially, the symptoms of a Herpes simplex virus infection include a fever, sore throat, swollen mouth and sore gums, but not fever blisters. This initial infection is called the primary infection. Subsequently, the disease may flare up occasionally, causing the tell-tale blisters to form on the lips and around the mouth of the infected person. The flare-ups may be triggered by fevers caused by other factors, which is why the blisters often are called fever blisters.
Herpes simplex
The Herpes simplex virus, which is very contagious, is passed from one person to another by contact. In infants, it can be transmitted by receiving a kiss, drinking from a plastic cup or touching an object that perhaps was gummed by another, infected baby. It also can be passed to the child during birth, if the mother has genital herpes. The virus can spread from one part of the body to another. For this reason, try to keep your baby from touching the fever blisters. The most serious complication occurs if the virus spreads to the eye. This is called ocular herpes, and, in serious cases, it can lead to vision problems or even blindness. For that reason, fever blisters that appear on your baby's eyes require immediate medical attention.
Treatment
There's not much you can do to treat fever blisters. In most cases, they go away on their own in a week or so. Put socks on your baby's hands to keep her from rubbing at the blisters -- especially when she sleeps -- and wash and disinfect her hands often. The same goes for any toys or eating utensils she uses. If the blisters seem to be bothering her, give her a weight-appropriate dose of a pain reliever such as ibuprofen. Never give a child under the age of 1 aspirin, however. Treat the blisters with an over-the-counter cold sore topical ointment. Feed her soft, mild foods to avoid irritating the mouth, which may be sensitive due to the blisters.
Other Considerations
Canker sores often are mistaken for fever blisters, according to the Federal Citizen Information Center of Pueblo, Colorado, but they have one major difference. These sores are located inside of the mouth, not on the outside, as fever blisters are. The cause of canker sores is not known, although they are thought to be caused by a virus. Similar to fever blisters, they heal on their own and can be managed with pain medication and avoidance of spicy foods.