The Centers for Disease Control and Prevention (CDC) recommend vaccination as the first step to reduce your risk of infection with seasonal and pandemic flu. While there are many pros to getting vaccinated, there are also some cons you may wish to consider.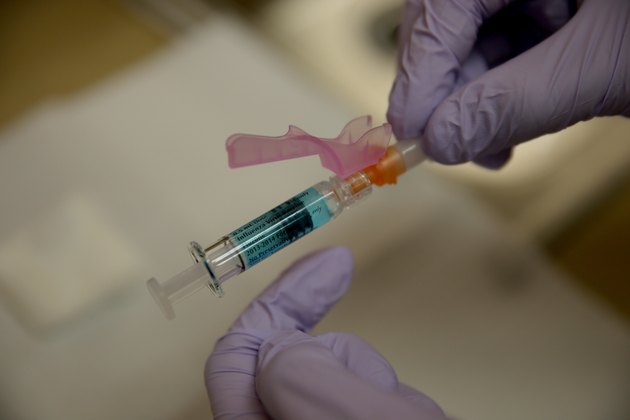 Flu-Like Symptoms after Vaccination
In clinical studies by CSL Biotherapies Inc., makers of the Afluria seasonal flu vaccine, approximately 10 percent of adults complained of headache, muscle ache, fatigue and malaise after receiving the vaccine. Children reported a broader range of symptoms including irritability, rhinitis, fever, cough, loss of appetite, vomiting, diarrhea, headache, muscle aches and sore throat. These symptoms were usually mild and resolved within a few days. In addition, more than 10 percent of adults and children complained of injection-site reactions consisting of localized muscle pain, tenderness, redness and swelling, which persisted for up to 1 week.
Risk of Vaccine Failure
The flu vaccine is not foolproof. The effectiveness of the vaccine depends on the degree of match between circulating influenza strains and the strains in the vaccine, which are determined more than 6 months before the flu season begins. Some years the match is better than others. According to the CDC, in years when the match is very good, the vaccine reduces the risk of influenza by 70 to 90 percent in healthy adults. In the elderly, infants and people with medical problems, the vaccine may be even less effective, even though these groups are also at higher risk of influenza-related complications.
Risk of Guillain-Barre Syndrome
Guillain-Barre syndrome (GBS) is an autoimmune disorder in which the body manufactures antibodies against sites on the peripheral nerves. According to the National Institute of Neurological Disorders and Stroke, initial symptoms of GBS include muscle weakness and tingling that begins in the legs and moves up the body progressively. In severe cases, a person may be completely paralyzed and require a ventilator to breathe, due to paralysis of the diaphragm. In 90 percent of patients, symptoms peak at approximately 3 weeks. Between five percent and six percent of people with GBS die. Among those who survive, recovery is prolonged; 30 percent of patients still report residual weakness 3 years after infection. GBS is usually related to bacterial infection with Campylobacter jejuni. However, one in 1 million people who received the swine flu vaccine in 1976 and the seasonal flu vaccine between 1992 and 1994 also developed the disease. For the 2009-2010 flu season, the Food and Drug Administration required all influenza vaccine manufacturers to note the risk of GBS in their product literature.