Amoxicillin is a prescription antibiotic medication used to treat various bacterial infections of the nose, throat, ears, skin and urinary tract. In children, this medication is typically administered orally in liquid or chewable tablet form. The liquid form of this medication can be mixed with a cold liquid, such as formula, milk or fruit juice, to improve the taste of this prescription. The amount of amoxicillin your child receives is based on his weight and should be determined by his pediatrician. Side effects associated with amoxicillin are limited but should be discussed with your child's pediatrician before beginning treatment.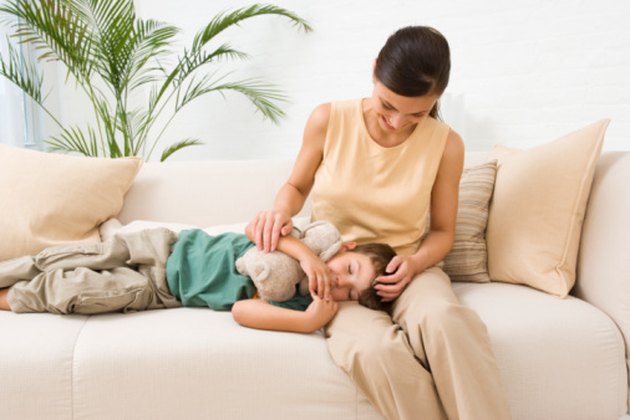 Upset Stomach
While taking amoxicillin, your child may develop an upset stomach as a side effect of this medication. Your child might complain that her tummy hurts or may be uninterested in eating her favorite snack. She could also appear irritable or lethargic as a result of this side effect of amoxicillin.
Diarrhea
Amoxicillin can cause your child to develop diarrhea. Diarrhea can cause your child to excrete watery or loose stools. If your child is taking amoxicillin, you may need to change your toddler's diaper more frequently than usual or you may notice that your older child needs to go to the bathroom more often than normal.
Diarrhea can also cause abdominal pain or bloating, which can be uncomfortable to your child. As a result of this side effect, your child might complain that he does not feel well or he may be restless or irritable. If these symptoms persist, health professionals at Cincinnati Children's Hospital Medical Center in Ohio recommend that you speak with your child's pediatrician.
Allergic Reaction
Although rare, an allergic reaction to amoxicillin can occur in some children. Symptoms of an allergic reaction to this medication include skin rash (hives); breathing difficulties; seizures; fever; or swelling of the feet, hands or tongue. If your child develops any of these symptoms after taking amoxicillin, contact your pediatrician immediately to prevent life-threatening medical complications.
Is This an Emergency?
If you are experiencing serious medical symptoms, seek emergency treatment immediately.