At 71 years old, Cher has a physique a person half her age would envy. Her secret? She does planks. Every. Single. Day.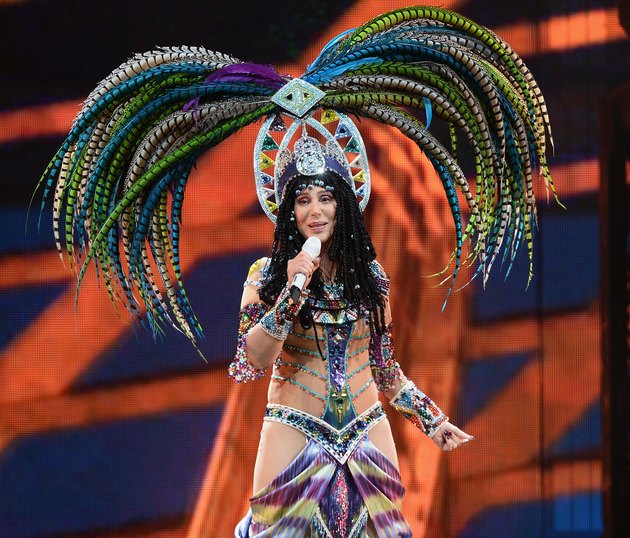 "I started out with 30 seconds, and I thought I was gonna die," the "If I Could Turn Back Time" singer recently revealed to People. "Now I do three to five minutes!"
While it's impressive that Cher is still planking in her 70s, what's totally mind-blowing is how long she can hold the position. According to a recent study, the average college-age female can hold the pose for about 90 seconds, and the average male can do it for 106 seconds. So Cher can basically kick the average college student's butt when it comes to a planking challenge, which makes her the superwoman of planking.
For those unfamiliar with the often dreaded but always effective workout move, the plank is great for strengthening and protecting the back — as well as conditioning abdominal muscles — which is why so many people add the exercise to their workout regimen.
The plank is somewhat simple in theory: Begin on all fours with your wrists stacked beneath you and your fingertips spread wide. Your knees should rest on the ground below the hips. Engaging your core, step back with your right leg until it is fully extended, and then also extend your left leg back. While your arm and leg muscles are engaged in order to provide safety and support, your abs do most of the work by stabilizing your midsection and torso as you hold the position for a period of time. Most people generally start with 30 seconds and work their way up.
Even though Cher is in excellent shape, she admits to not wearing her old — oftentimes scandalous — costumes anymore. This is not only due to the fact she is now 126 pounds (she hasn't weighed 106 "in a million years!") and can't fit into them, but also because her at-home style is far less Cher-like than you might imagine. "I'm kind of a bum," she admits, copping to wearing sweats and leggings at home. "I keep my hair in a bun because it's just a pain in the ass." Amen, sister.
So, in a nutshell, if you want to channel Cher circa 2017, you don't have to wear a thong bodysuit in public — but you will have to up your workout ante in a major way. Get planking!
What Do YOU Think?
Is Cher a fitness inspiration? Are you surprised that Cher can plank for so long? How long can you plank?